PRESS RELEASE
State officials show off new contraband detectors for prisons
---
BALTIMORE - Maryland corrections officials on Wednesday announced $1.8 million worth of advanced metal detectors that can locate the smallest pieces of contraband, after several high-profile incidents that included a large-scale federal investigation at the state's largest prison last year.
The Department of Public Safety and Correctional Services purchased 161 Cellsense metal detectors. Officials said they are being used in all 24 facilities across the state to curb smuggling of drugs, weapons and other items into and around prisons.
"This equipment is a game-changer" said Stephen T. Moyer, the state's public safety secretary, at a news conference Wednesday morning inside Baltimore's Central Booking and Intake Facility. "Cellsense better detects cellphones and weapons that cause prison violence and violence in jails."
The devices, which were put in use about a month ago, can be moved around facilties and can detect small pieces of metal inside a person's body and even through a wall.
The state purchased them after federal authorities announced the largest federal indictment in Maryland history last year at the Eastern Correctional Institution in Westover. Dozens of corrections officers and inmates were charged in an alleged conspiracy to smuggle heroin, cocaine, cellphones, pornography and other contraband into the facility.
That investigation was similar to the 2013 federal indictment in which investigators found the Black Guerrilla Family gang had effectively seized control of the Baltimore City Detention Center to run drug operations inside and outside the facility, and used smuggled cellphones to intimidate witnesses and move money.
"This action is a direct result of the corruption here in Baltimore and over on the Eastern Shore," Moyer said Wednesday.
Gov. Larry Hogan ordered the closure of the Men's Detention Center in Baltimore, parts of which predate the Civil War, in 2015, and the closure of the women's detention center last year. Officials closed the Jail Industries Building this month.
Moyer said the new technology will make conditions safer for corrections officers. He said officials began evaluating Cellsense after the death of a veteran corrections officer at a Delaware prison in February.
About Cellsense
Metrasens contraband detection products offer unsurpassed technology and exclusive cutting edge features. CellsensePLUS® detects cell phones, weapons and other illicit materials, bringing a new level of security to your facility.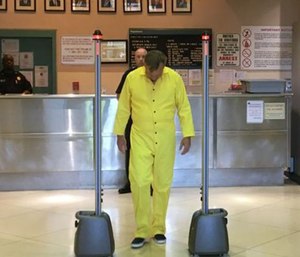 Request more info from Metrasens, Inc.
Thank You!