PRESS RELEASE
Digital betterment opportunities inspire incarcerated individuals to build career plans
---
Securus Technologies' "Improving Lives From the Inside Out" profile series part three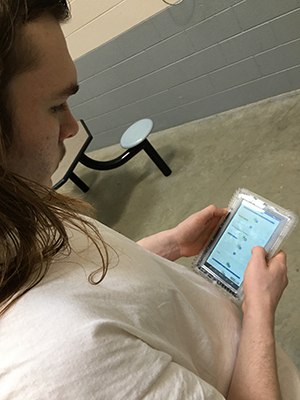 In the third installment of the profile series, "Improving Lives From the Inside Out", the story features interviews with incarcerated individuals who have been empowered with educational technology and communication tools provided by Securus Technologies® to help prepare for successful reintegration to society upon release. This third edition focuses on Anthony Woodman and Sacsha Krantz, incarcerated individuals at The Kendall County Sheriff's Office in Illinois. Since the interviews, Krantz has been transferred to Sheridan Correctional Center of the Illinois Department of Corrections where he is serving a five-year sentence.
While Woodman and Krantz are serving time, they are actually making up for lost time. The Securus Technologies SecureView® Tablet opens up a digital landscape of opportunity for them with equal access to critical content like education programs, which are complimentary. KA Lite is an offering that is helping both men achieve their goals for the future.
In fact, he adds that the tablet is also showing him everyday solutions to saving money like the difference between renting and buying a home. Now, he is considering a mortgage. The tablet for incarcerated individuals offers thousands of self-guided education videos. An example of subjects include math, science, computers, language arts and a variety of business topics. Woodman says he has been remodeling homes for over ten years, and now is learning how to renew his business license.
"It has taught me how to do my personal and business taxes, save money and rebuild my credit as opposed to filing for bankruptcy," Woodman stated. 
Additionally, while on the surface, economics, finance and math may not seem important to a home remodeler, Woodman points out they are vital to calculating exact specifications.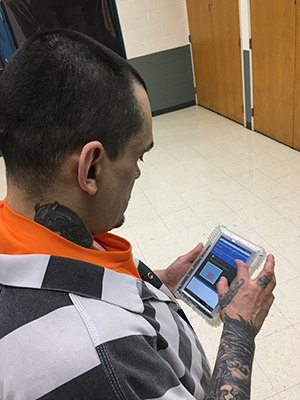 "When you're painting walls, remodeling porches or decks, each gallon of paint, takes up a certain amount of square feet, so you need to know how to calculate that," Woodman explained. 
Additionally, he uses JobView, the Securus Technologies' employment platform, available for free on the community tablets, which helps incarcerated individuals identify job opportunities so they can prepare for successful reentry. The complimentary app also allows the users to be able to learn the skills needed for the positions. Woodman has learned there are a variety of available construction jobs in his community. 
"I feel optimistic and excited. I want to show my kids there is a way to make an honest living," he concluded. 
Meanwhile, Krantz also watches videos on the tablet for career building, but first, he is working on his education.
"I was able to prepare for the GED with the help of KA Lite," he explained. 
Deputy Commander Jeanne Russo helps supplement the GED program at the sheriff's office with the community tablets.
"The SecureView® Tablet has increased the potential for our population to successfully complete a high school equivalency program. Inmates use the application to supplement the classroom instruction they receive. It enables them to complete the life-changing milestone of earning their GED, which is increasing the incarcerated individual's feeling of self-worth and positively impacting the morale in our institution."
Krantz feels he is a good self-learner and watched educational videos on SecureView tablets such as math and U.S. History to help him get ready for the test. He shares that he enjoys the flexibility of the learning program with the opportunity to teach himself with whatever tools work best. 
"The videos teach us how to do it, so the information sticks in our brain," Krantz said. 
He shares that working on the tablet makes him feel positive. Ideally, he would like to work with his hands and get experience in brick laying.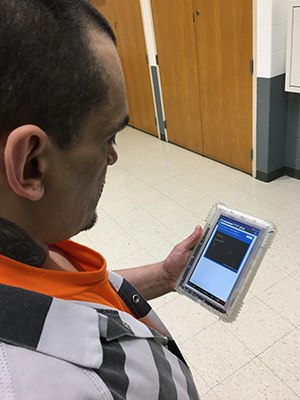 "KA Lite is also preparing me with good job skills like grammar. Since I will have a GED, I will tend to get paid more, which will make it easier to live on my own," Krantz added.
Another Securus Technologies' digital tool that is having a positive impact on his life is Securus Video Visitation™.  The web-based system allows friends, family, and attorneys to schedule and participate in video visitation sessions with an incarcerated individual from anywhere with internet access using a smartphone, tablet or PC. Remote video visitation provides opportunities to share life's special moments like birthdays and holidays. Studies show a link between inmates maintaining relationships with their loved ones, while incarcerated, reduces recidivism. Krantz  adds that video visits after work are convenient for his family.  
"The visits help me keep in touch. My grandmother, mom, and I have become a lot closer. It brings me hope and lifts my mood. They're proud of me. They see how I'm changing," Krantz concluded.
About Securus Technologies LLC
Headquartered in Dallas, Texas, an Aventiv Technologies company, serving more than 3,450 public safety, law enforcement and corrections agencies and over 1,200,000 inmates across North America, Securus Technologies is committed to serve and connect by providing emergency response, incident management, public information, investigation, biometric analysis, communication, information management, inmate self-service, and monitoring products and services in order to make our world a safer place to live. Securus Technologies connecting what matters®. For more information, please visit SecurusTechnologies.tech.