Woman charged in rash of fentanyl overdoses at Alaska prison
Dorothy Elizabeth Lantz, 36, is charged for giving a synthetic opioid to other inmates, causing four overdoses
---
By Laurel Andrews
Alaska Dispatch News, Anchorage
ANCHORAGE, Alaska — A woman incarcerated at Hiland Mountain Correctional Center in Eagle River gave a powerful synthetic opioid to other inmates, causing four overdoses in late October, according to charges filed in federal court Tuesday.
Dorothy Elizabeth Lantz, 36, was charged with one count of distribution of a controlled substance for providing inmates with fentanyl at the women's prison. Investigators allege she carried the drugs inside her body when being transferred from the Anchorage Correctional Complex to Hiland on Oct. 30.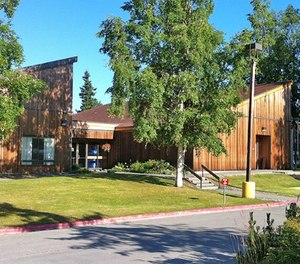 Four women collapsed from drug overdoses during the last two days of October, Christine Truong, special agent with the Drug Enforcement Administration, wrote in the criminal complaint filed in U.S. District Court.
One of those women overdosed twice in one day, Truong wrote. All of the women were revived, and there were no fatalities.
The first inmate who overdosed admitted to taking fentanyl Oct. 30. She told investigators that she had used drugs for 15 years, and that she took "a very small amount" of the drug, which was wrapped in plastic when she got it.
The second inmate identified in the complaint made a Nov. 4 call that was recorded. During the call, she said that she had taken the fentanyl in a powdered form.
The third inmate told investigators that she "was up and talking and then … was 'out,' " the charges say. Right before she blacked out, the second inmate had fallen down, and they were told to go into lockdown and return to their cells.
The third inmate told investigators that she was in the hospital for a few hours, then returned to the prison, where she overdosed a second time that same day.
A fourth inmate was found "in an unresponsive state with her hands clenched in front of her" on Oct. 31, the complaint says. She was holding a condom that contained a white powder and eight white pills, later found to be fentanyl and methadone, respectively.
That same inmate told investigators that she took a tiny amount of the drug — about "1/20th of a Tic Tac," she said — in powder form. She had been abusing drugs for more than 15 years but had never overdosed, the inmate told investigators. The fentanyl was "very, very potent," she said, according to the charges.
Another inmate told investigators that she had also been given fentanyl, and that others had taken the drug but hadn't overdosed.
Lantz admitted to giving fentanyl to four inmates — three who overdosed and one who did not. She said she carried it inside her body when being taken from the Anchorage Correctional Complex to Hiland. She said she didn't know where it came from and only had it because she had "come across it," the charges say.
Lantz was arrested on a parole violation Oct. 24, online records show, in a case where she pleaded guilty to driving under the influence. A warrant for her arrest had been issued nearly a year before she was taken into custody.
Lantz arrived at Hiland on Oct. 30, the same day the first overdose occurred, according to the Alaska Department of Corrections.
When Lantz was interviewed, she told investigators that the drugs were gone and that she had flushed what was left down the toilet. She said she traded drugs for items from the commissary.
"Lantz began to cry and she asked if she was going to 'get into legal trouble,' " the charges say.
On Nov. 1, the Alaska Department of Corrections said that five women overdosed in the prison and had to be revived with Narcan, used to counteract the effect of opioid overdoses. At the time, the agency said it didn't know what drug had caused the overdoses.
"Drug overdoses aren't unheard of in prisons, but to have 5 back-to-back, that is very uncommon," agency spokeswoman Megan Edge said at the time.
Lantz remained incarcerated at Hiland on Tuesday, online records show.
Fentanyl is a synthetic opioid that is used to treat severe pain, and is 50 to 100 times more powerful than morphine, according to the Centers for Disease Control and Prevention. The drug played a role in 27 deaths in Alaska between 2014 and September 2016, according to the state health department.
Gov. Bill Walker declared Alaska's opioid crisis a public health disaster in February.
©2017 the Alaska Dispatch News (Anchorage, Alaska)
Request product info from top Corrections Fentanyl Protection companies
Thank You!