Weapon-Mounted Lights
---
2 models from PentagonLight
By Chris Boyd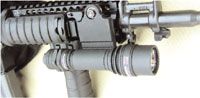 Whether affixed to a primary sidearm, shoulderfired .223 entry weapon, 12- gauge shotgun, 40mm launcher or PepperBall gun, white light sources mounted on a variety of weapons are becoming mandatory items of everyday police equipment. The reason is simple: You can't hit what you can't see. And target identification is equally as important as hitting what you aim at—you certainly don't want to accurately hit a friendly instead of a suspect.
One of the newest entries into the weapon-mounted flashlight arena is a company called PentagonLight. No, the company is not based in Washington, D.C., as the name might imply. Located in Burlingame, Calif., all of its lights are manufactured in the United States. The name refers to the trademark pentagonal activation button. More on that later.
I recently received two PentagonLight models for testing & evaluation: the SA2 and the SA3R Stealth AssaultLights. Each came with an attached mount from LaRue Tactical Mounting Systems. My initial inspection revealed the lights to be quite robust, in keeping with the company's motto, "Built like a tank."
Aside from physical size, the differences between the two lights are battery capacity and lumens output. The SA2 (six volts) measures 5.5 inches in length with a bezel size of 1.25 inches. It holds two CR123A lithium batteries and emits 70 lumens with a total run time of approximately 60 minutes. The 7"-long SA3R (nine volts) has a bezel size of 1.5 inches, holds three CR123A lithium batteries, emits 135 lumens and also features a run time of approximately 60 minutes. Both lights come equipped with long-lasting Xenon bulbs, rated for the recoil associated with the weapons systems they are most likely to be mounted on, including the AR-15 family (AR- 15, M-16, M-4, etc.), pistol-caliber carbines and submachine guns, such as the H&K MP5.
While the lights have differing external dimensions, they both utilize the company's trademark TC3 momentary tail-cap. The rubberized, pentagon- shaped, momentary pressure-switch tail-cap has a textured grip on its ample surface area, making it tactile-sensitive for low/no-light ease of use. Activation is straightforward and positive. When you activate or deactivate the light, there is no audible "click." Rotating the rear bezel clockwise places the light in a constant-on mode to facilitate extended searches. Conversely, rotating the bezel counterclockwise into a lockout position prevents accidental activation of the light.
When utilizing the exceptional mounting system manufactured by LaRue Tactical, the offset mount optimally positions the light at the five o'clock position for direct activation by the thumb of the vertical fore grip (support) hand. This robust mounting's unique locking mechanism ensures that the light/mount won't become loose over time or if it comes into violent contact with a fixed object during dynamic entry movement. The LaRue Tactical mount has the same low-visibility, stealth exterior finish as the light; it's antireflective and resists abrasion and corrosion.
Attention to craftsmanship is evident in every detail. The light bodies are constructed of CNCmachined, tubular, aerospacegrade aluminum with double oring redundancy to prevent water leakage. The finish is second to none—anti-reflective, super-hard anodized and exceeding military type III specifications for abrasion and corrosion resistance. This stealth finish blends with the military finish of most firearms. The company offers an array of bulb choices, such as Luxeon LED, Xenon and differing levels of brightness as measured in lumens. White light, laser modules, infrared and combinations of each add up to no less than 50 offerings. All have one thing in common: reliability and durability backed up with a lifetime guarantee.
For those who prefer the greater versatility of a corded remote pressure-pad switch (beneficial when a transition to a support-side shooting position is necessary), PentagonLight offers this option, as well as dozens of other accessories.
My field-test experience with both light models was absolutely positive. I recommend either of these two lights. They should prove more than capable of providing the service life of a longevity-retirement career, with the obligatory periodic changing of batteries and bulbs.