Insight Technology Releases Proven M3X & M6X with a High Performance LED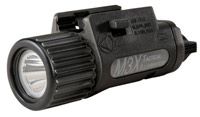 LONDONDERRY, NH - Insight Technology, the world's leading provider of tactical lasers, illuminators, thermal imaging equipment, and red dot sighting systems introduces their new M3X LED and M6X LED. The LEDs improve light output, extend run time and increase the durability giving the operator confidence in any mission.
Insight's M3X Tactical Illuminator and M6X Tactical Laser Illuminator were engineered for combat deployment with U.S. Special Operations personnel. Manufactured in either a long gun or pistol configuration, each has a run time of 120 minutes and provides 150 lumens. Surviving a 44,000 round torture test the built-in Shock Suppression System demonstrates strength in extensive testing.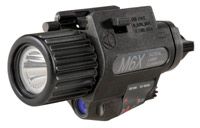 The M3X and M6X allow 3 mounting options. The Rail-Grabber™ mount fits most rail configurations for a pistol, rifle or shotgun. The patented Universal Slide-Lock® system provides instant tool-free mounting/removal and fits most pistols, while the 1913 Slide-Lock® mount is designed for the true M1913 Mil-Spec Picatinny rail.
Optional interchangeable backplates allow pistol to long gun conversion. The ambidextrous rocker switch gives pistol operators the option to activate in the Momentary On or Constant On mode. Long gun backplates have a 3-position rotary switch for Off, Momentary On and Constant On that's used with a straight cord touch-pad remote. Also available is a coiled remote cord for pump-action shotguns. The M6X has the added feature of a Class III visible red laser adjustable for windage and elevation and a 4-position selector switch for Laser Only, White Light Only, or simultaneous Light and Laser. Replacement LED kits will be available later this year.
Specifications:

Specs/Model

M6X Pistol

M6X Long Gun

M3X Pistol

M3X Long Gun

Peak Output

150+ Lumens

Visible Laser

Class IIIa Red/Range 200M

Not Applicable

Run Time

120 minutes

120 minutes

120 minutes

120 minutes

Interface Options

MIL-STD-1913 Slide-Lock®, Universal Slide-Lock®, or Rail-Grabber™

MIL-STD-1913 Slide-Lock®, or Rail-Grabber™

MIL-STD-1913 Slide-Lock®, Universal Slide-Lock®, or Rail-Grabber™

MIL-STD-1913 Slide-Lock®, or Rail-Grabber™

Dimensions

3.4"L x 1.6"W x 2.1"H

3.6"L x 1.6"W x 2.1"H

3.4"L x 1.6"W x 1.6"H

3.6"L x 1.6"W x 1.6"H

Waterproof

Waterproof to 66 Feet

Weight

4.4 oz. w/Batteries

4.8 oz. w/Batteries

3.9 oz. w/Batteries

4.3 oz. w/Batteries

Lithium Battery Power

6 volts from two (123)

Warranty

Limited Lifetime Warranty
About Insight Technology: Founded in the 1980's, Insight Technology Incorporatedenjoys the long and highly respected heritage of the foremost developer and manufacturer of tactical lasers, illuminators and thermal imaging equipment for the U.S. Armed Forces, law enforcement agencies and the commercial market. The company operates its state-of-the-art facility providing highly effective and innovative tactial devices for extreme environments, advancing the effectiveness of the warfighter and first responder. Insight Technology is an ISO-9001:2008 registered company headquartered in Londonderry, New Hampshire.