Safe Direction Ballistic Containment Systems
By Todd Rassa, Police Marksman Magazine
To subscribe to The Police Marksman
Visit their Website or e-mail the editor at Connie@PoliceMarksman.com
Safe Direction, manufactures products that should help reduce the number of injuries and or deaths and property damage from accidental/negligent discharges. Safe Direction products are multilayered ballistic containment systems, designed to be the focus of the muzzle during firearm loading/unloading. Their unique system absorbs and contains an errant bullet, practically eliminating the concerns of injury or property damage should an unintentional discharge occur. The ballistic and shock absorbing materials are designed to absorb and contain everything from a .22 LR to a .45 ACP. The material can be compared to an NIJ IIIA vest. Safe Direction hooked me up with a Pistol Transport Case and an Academy Pad. I found both to be easily used and surprisingly light.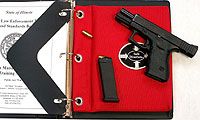 The Pistol Transport Case comes in two sizes, with the large size being big enough to hold two pistols, while the medium holds one. The medium-sized case was large enough to hold my duty pistol. Both the large and medium cases come with a 6"x 8" x 2" zippered pocket large enough to hold keys, cell phone, etc. The handles were comfortable and the stitching proved to be very strong. Available in red, black, hunter green, royal blue and deep purple.
The Academy Pad was very useful. It is made of the same ballistic material described earlier, however this product can be snapped into a 3-ring binder. Like a page divider, (7" x 10" x .5") it has ringlets built into the edge that allows it to travel in a book. Students attending a shooting school or instructors teaching the class can carry their Safe Direction with them!
The company recommends that the Safe Direction product be placed on a sturdy surface that will support it and that the muzzle of the pistol is placed directly against the inner oval of the Safe Direction patch located in the middle. This assures that if a round were to discharge it will hit directly in the middle, allowing maximum ballistic absorption and containment. I simply incorporated the Academy Pad and the Pistol Transport Case into my preestablished loading and unloading regiment. Though I did not shoot my test models, I have seen an Academy Pad shot and the round was captured.