PRESS RELEASE
North Carolina Department of Correction Converts to Smith & Wesson M&P Pistols
---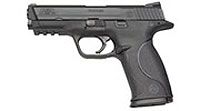 SPRINGFIELD, Mass./PRNewswire-FirstCall/ -- Smith & Wesson Holding Corporation (Amex: SWB), parent company of Smith & Wesson Corp., the legendary 154-year old global provider of products and services for safety, security, protection and sport, today announced that it has reached an agreement with the North Carolina Department of Correction for 5,700 of the company's new Military & Police (M&P) Series of advanced-design polymer pistols.
Officials at the North Carolina Department of Correction, who were involved in the testing and decision-making process, indicated that the M&P pistol incorporates the key features that are valuable in the day-to-day duties of their officers. Max Mathews, Lead Firearms Instructor for the Office of Staff Development and Training with the North Carolina Department of Correction provided the following comments, "The North Carolina Department of Correction has been using Smith & Wesson revolvers for 30 years. We currently employ over 10,000 officers and need to accommodate many different hand sizes and shapes. The M&P40's interchangeable grip panels have enabled us to select one pistol that will fit every officer. Overall, we believe the M&P40 will give our officers a safe, effective and reliable firearm."
The M&P Pistol Series offers a number of distinctive features that provide durability, safety and versatility. These features include a Zytel polymer reinforced frame with a ridged stainless steel chassis and a thru-hardened black melonite stainless steel barrel and slide for durability; a passive trigger safety to prevent the pistol from firing if dropped; and a sear lever release that eliminates the need to press the trigger in order to disassemble the firearm. A loaded chamber indicator is located on top of the slide, and an internal lock system is optional for military and law enforcement users. The pistol's innovative ergonomic design is enhanced with three interchangeable grip sizes, allowing the user to customize grips in a matter of seconds. The firearm also features an ambidextrous slide stop and a reversible magazine release, as well as an enlarged trigger guard designed to accommodate gloves. A universal Picatinny style equipment rail allows the addition of tactical lights and lasers.
Michael Golden, President and CEO of Smith & Wesson, said, "This agreement is a tremendous endorsement of our new M&P polymer pistol, and it signals an exciting new chapter in the 30-year relationship between Smith & Wesson and the North Carolina Department of Correction. Introduced just six months ago, the M&P is already in use by several law enforcement agencies across the nation, and is currently under evaluation with several others. We worked with a number of law enforcement agencies to develop the M&P series, and we believe the key features we have designed into the M&P40 are beginning to change the performance expectations that officers have for their duty firearms. We remain dedicated to developing and building innovative products that meet the needs of law enforcement and military personnel. Smith & Wesson is especially pleased to continue our long partnership with the North Carolina Department of Correction with our agreement to support their conversion to the M&P40."

Request more info from Smith & Wesson
Thank You!