PRESS RELEASE
Smith & Wesson Earns 'Manufacturer of the Year' Title and NRA Golden Bullseye Award
---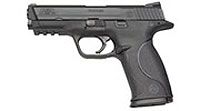 SPRINGFIELD, Mass./PRNewswire-FirstCall/ -- Smith & Wesson Holding Corporation (Amex: SWB), parent company of Smith & Wesson Corp., the legendary 154-year old global provider of products and services for safety, security, protection and sport, today announced that it has received the "Manufacturer of the Year" award from the Shooting Industry Academy of Excellence and the National Rifle Association (NRA) Golden Bullseye Award for "2006 Handgun of the Year" from Shooting Illustrated. Smith & Wesson received the awards during the 135th NRA Annual Meeting & Exhibits held in Milwaukee, Wisconsin on May 19-21, 2006.
Established in 1992, the Academy of Excellence is sponsored by FMG Publications, publisher of Shooting Industry, GUNS and American Handgunner magazines. The voting group consists of 471 industry executives, gun dealers and outdoor writers. Smith & Wesson was nominated for the award for introducing 43 new products including the revolutionary M&P pistol series and the recently launched M&P tactical rifles series; for responding to consumer demand and re-introducing several historic guns including the Model 29 50th Anniversary special; for continuing to support and expand shooting sports with programs including NSSF's First Shots and Step Outside programs, as well as many women's and youth shooting sponsorships; for driving innovative sales and marketing initiatives; and its support for the enactment of the Protection of Lawful Commerce in Arms Act.
Also during the NRA Convention, Smith & Wesson Wesson's Model 460XVR (X-treme Velocity Revolver) was selected as the "Handgun of the Year" by Shooting Illustrated. The NRA Golden Bullseye Awards are presented once a year as the NRA acknowledges the finest products available in the shooting sports industry. A committee of NRA editors and staff, representing more than a century of collective experience in the firearms industry, voted on the awards. To be eligible for the Golden Bullseye Award, a shooting-related product must be recently introduced, reliable in the field, innovative and widely available.
Michael F. Golden, President and CEO of Smith & Wesson, said, "We are honored to be selected as the 'Manufacturer of the Year' from the Shooting Industry Academy of Excellence and to receive this year's NRA Golden Bullseye Handgun of the Year Award. Our employees have worked hard to re-energize Smith & Wesson. Earning this recognition from professionals within our own industry is a tremendous validation of our achievements and the positive impact we have made. We remain dedicated to developing innovative, high-quality products and marketing programs that meet the needs of all our customers, and we are proud to have those products and programs recognized by the industry."

Request more info from Smith & Wesson
Thank You!