Calif. county jail preparing for potential coronavirus outbreak
Sonoma County Jail has augmented the screening process conducted in the booking area to prevent incarceration of anyone infected with coronavirus
---
By Martin Espinoza and Guy Kovner
The Press Democrat
SANTA ROSA, Calif. — A display screen outside a room with negative pressure inside at Vista Family Health Center in Santa Rosa will flash a red-alert signal if the airtight door is left open for more than a few seconds.
The room, one of several like it at the clinic on Round Barn Circle, is used to isolate patients with tuberculosis, flu, measles and chickenpox and contain airborne contaminants. And the rooms — equipped with a "mini brain" that monitors air flow, ensuring it's not circulated throughout the building — will be ready to treat patients should there be a community outbreak of deadly coronavirus.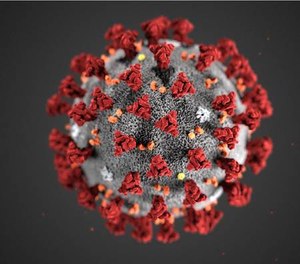 "It's our job to be prepared," said Jackie Leon, senior clinic operations manager at Vista, one of eight clinics operated by Santa Rosa Community Health, the largest health center system in Sonoma County.
The clinics are expected to play a key role in any front-line battle here against COVID-19. The negative pressure rooms are stocked with surgical masks, gowns, gloves and goggles. Doctors and nurses are ready to treat infected patients.
"We're preparing for a pandemic. ... We're not going to prevent a pandemic. We're going to mitigate it," said Dr. Gary Green, an infectious disease expert at Sutter Medical Group of the Redwoods in Santa Rosa.
Many in the county's network of health care providers are preparing "for a historic event," Green said.
"It's going to feel like what we experienced in 1968 with the Hong Kong flu, which wasn't as severe as the 1918 flu," he said. The Hong Kong flu killed 1 million people worldwide in 1968 and 1969.
Although the coronavirus has killed nearly 3,000 ?people as of Saturday, all but 103 of the deaths have been in China where the virus originated in January.
Last week, though, fears soared in Northern California as one of the 15 people who had returned home from the virus-stricken Diamond Princess cruise ship in Japan and placed in quarantine at Travis Air Force Base in Solano County was transferred to an unnamed Sonoma County hospital. Then news broke at the end of the week that the nation's first two confirmed cases of the virus apparently infecting people who contracted it from an unknown origin are from Solano and Santa Clara counties.
With coronavirus gaining a foothold in Northern California and the World Health Organization upgrading the risk of global spread to "very high," local health officials and medical professionals shifted to urgent preparation and emergency planning to be ready in case the infection sickens many countywide.
State Sen. Mike McGuire, D-Healdsburg, said county, state and federal officials are ramping up a coordinated response to the growing pandemic.
"It is prudent for us to plan for the worst and hope for the best," he said.
Here's a breakdown of what you need to know about preparations underway at area hospitals and health agencies, schools, businesses, county government and the local jail.
Dr. Celeste Philip, Sonoma County's health officer, said the two cases of possible community transmission of the novel virus will most certainly require testing people locally. State health officials said Saturday there will be the ability to test up to 1,200 people a day statewide, but it's unclear how and where that will take place.
The county now has to send any patient samples to be tested for COVID-19 to a lab in Richmond operated by the state Department of Public Health and the CDC. That could change quickly after Gov. Gavin Newsom last week said the state was short on test kits for the virus and needed federal officials to supply many more.
"We're hoping to receive some test kits (this) week," Philip said.
Patients exhibiting flu-like symptoms such as fever, coughing and shortness of breath who have recently traveled to places like China, South Korea, Japan and Italy or who have been exposed to someone who has traveled there would be priority candidates for testing.
Philip and other public health staff are collaborating with Sonoma County Department of Emergency Management and working with local hospitals and health care providers to ensure uniform efforts to isolate and test high-risk individuals.
"This is a major change for how we will be operating," Philip said.
Green, the Sutter Health infectious disease expert, said staff at local hospitals, clinics and medical offices are coordinating with county, state and federal health officials for a "seamless" response to the virus.
"At Sutter, we're developing special clinical workflows, so that we'll have surge capacity to handle a lot of coronavirus patients and still have the ability to care for other patients," Green said, adding that planning for COVID-19 has become "a third job."
The doctor said many in the county's health care community are preparing "for a historic event."
The priority for now is cleanliness of all school buildings, he said.
In the event of a serious coronavirus outbreak, health officials have the authority to open and close schools as necessary.
Steve Mizera, assistant superintendent of Santa Rosa City Schools, said the district is taking similar precautions they do during any flu season.
Parents are asked to seek medical care if their children display respiratory symptoms, such as shortness of breath. Parents should practice common sense and keep children home from school if they develop a fever greater than 100.4 and have flu or cold symptoms.
Meanwhile, Rincon Valley Middle School Principal Ray Navarro canceled two student field trips — to UC Davis Friday and to Six Flags Discovery Kingdom in Vallejo on Sunday — both as a result of concerns about exposing students to the virus.
"It pains me to disappoint our students," he said, "but I just wanted to be sure I was erring on the side of caution."
Navarro had been willing to let about 280 eighth graders visit UC Davis, until the news Thursday that a student in a campus dormitory developed mild symptoms similar to those caused by the virus. The Davis student was placed in isolation at an off-campus home, and two of the student's roommates, with no symptoms, also are isolated.
Then Friday, Navarro canceled the trip planned for 35 seventh and eighth grade band students to Six Flags, a theme park where they were scheduled to perform in a music fest. The principal thought it was best not to expose the students to a large meeting place with people from all over the Bay Area.
The action came after the CDC recommended avoidance of nonessential visits to Italy, where cases of the virus spiked.
No SRJC classes or activities have been canceled and no campus health screenings for the virus are occurring, said Erin Bricker, an SRJC spokeswoman.
College President Frank Chong, in a message to the campus community Friday, said local health officials consider the risk of coronavirus infection here low.
At Sonoma State University, two students on foreign study in South Korea have been told to return home, said Paul Gullixson, a university spokesman. SSU is checking on the status of roughly six students in Italy.
No Rohnert Park or Petaluma campus buildings were closed or events canceled as of Friday.
SSU officials told the university community they will continue monitoring the virus spread in the U.S. and follow guidance of state and federal health officials.
University of California and California State University systems suspended foreign study programs in China and South Korea, he said.
Twenty departments have identified more than 170 essential services requiring about 400 staffers to avoid during any shut-down for more than a day, Bratton said.
In addition, many departments have recently replaced desktop computers with laptops, allowing employees to get work done at home if forced to self-quarantine for 14 days — the standard requirement for people who may have been exposed to the virus.
Also, there are designated alternate work locations if needed, similar to the county's contingency planning in the event of wildfires, earthquakes and power shutdowns.
The company, headquartered in Santa Rosa's Fountaingrove neighborhood, has been tracking the coronavirus since late January and maintaining a special information website to keep employees informed.
Keysight offices have been stocked with N95 or N99 masks, hand sanitizers and thermometers. Employees are required to stay at home if they are not feeling well.
The company also instituted a two-week self-quarantine for any employee who recently visited a city or country that has reported coronavirus cases. The virus has reached 58 countries, including the United States where there are 69 people diagnosed with the infection. One person near Seattle became the first confirmed coronavirus-related death in America, federal health officials said Saturday.
Jackson Family Wines, the county's fourth-largest employer with 1,098 workers, pulled two sales managers out of China and has postponed all international travel for employees.
"We have wineries around the world and estimate that some regions may be more impacted than others," said Galen McCorkle, a company spokesman. "Right now, we're continuing to monitor the situation closely and focus on the welfare of our employees, their families and our communities."
Medtronic, an international medical device maker with two campuses in Fountaingrove and one near the Charles M. Schulz-Sonoma County Airport, expects the virus to have effects on operations but can't quantify them yet "because of the fluidity of the situation," a company spokesman said.
Medtronic has about 180 ?employees in Santa Rosa, with a global workforce of more than 90,000 at 350 locations in more than 150 countries. Medtronic and the Medtronic Foundation have donated more than $1.5 million in products, supplies and money to support COVID-19 patient treatment and recovery in China, the spokesman said.
The premise is anyone traveling from outside the U.S. would have been screened at a major airport hub before arriving at the airport in Santa Rosa, said Jon Stout, the airport manager.
Cleaning doors, armrests and seats — "anywhere people are likely to touch," Stout said — will shift Monday from once every two weeks to every night.
Sonoma County Jail, which confines about 1,000 inmates in close quarters, has augmented the screening process conducted in the booking area to prevent incarceration of anyone infected with coronavirus.
As police officers and sheriff's deputies deliver criminal suspects to the jail, correctional deputies ask suspects about their medical history, medications and any physical or psychological conditions they might have, said Assistant Sheriff Al Brown, who oversees the jail.
A medical staffer provided by Wellpath, a private company, then checks a suspect's blood pressure and temperature.
If the suspect has symptoms of respiratory illness — cough or shortness of breath — and a temperature of 100.4 degrees or more, the new protocol includes asking the suspect about: travel from Wuhan, China within 14 days before the symptoms developed; being in close contact with someone under isolation for coronavirus; or with someone ill who tested positive for the virus.
Suspects who answer "yes" to any of the questions prompt an immediate reaction, including nearby jail personnel donning masks, gloves and eye protection, placing a mask on the suspect and notifying the booking area sergeant and county health officials.
The suspect will be placed in a negative pressure cell, which vents to the outside and prevents any air entering the booking area, pending transfer to a local hospital.
Testing the suspect for COVID-19 infection would be handled by health officials, Brown said.
"We have everything in place," Brown said, regarding any ill suspects, including any with coronavirus arriving at the jail. "Anything's possible. You just -never know what might happen."
———
©2020 The Press Democrat (Santa Rosa, Calif.)
McClatchy-Tribune News Service