PRESS RELEASE
SABRE announces $15,000 Safe is Smart Scholarship SweepStakes
---
The world-renowned safety brand is helping one lucky student with their college tuition while raising awareness for campus safety
SENTON, Mo. - SABRE, the number one brand of pepper spray trusted by police and consumers worldwide, is holding a scholarship Sweepstakes that will award one winner with $15,000 in scholarship funds.
The Safe Is Smart Scholarship Sweepstakes is set to run from July 1, 2017 to September 3, 2017—just in time for the back to school season.
Recent campus safety statistics show and increased danger for students—particularly females—with up to 1 in 5 college women encountering sexual assault and nearly 10,000 students each year enduring aggravated assaults and robberies during their time in college. SABRE is working to enhance awareness of the safety steps students need to take when they get to campus. However, they also want to encourage students with the chance at winning a scholarship to apply to their studies.
"Our decision to award a scholarship was twofold," explains SABRE CEO David Nance. "We wanted to give back to our community by helping someone with their college dream, while also teaching students and their parents about campus safety."
SABRE has spent more than forty years in the personal safety market and partnered with elite law enforcement professionals to further their understanding of self-defense tactics.
"Our goal is to help educate as many students as possible about the importance of personal safety, and by doing so, we are sharing important tips, as well as information about our safety products that can help students escape to safety should it arise," said Nance.
SABRE is encouraging students to follow these safety tips both on and off campus.
• Before unpacking their boxes, students should check out what free safe ride or walking services are offered by the campus.
• Students should take a safety seminar or attend a self-defense class. Many colleges offer them free or for credit, and the techniques and strategies can be lifesaving.
• For students moving from dorms to apartments, a personal alarm provides portable security. SABRE offers many compact options as well as a Dorm/Apartment Kit for keeping personal belongings safe.
• Prepare themselves with pepper sprays and gels—one of the most effective ways to deter or distract an attacker, and permitted on most campuses. SABRE has the most potent and reliable options on the market.
• Stick together—there is safety in numbers, so stay close to friends when going out or coming home late from parties.
"For parents, this time in their family's lives are exciting—but also stressful as they are seeing their children go off on their own, often for the very first time," said Nance. "We're hoping to give them peace of mind by teaching their kids how to stay safe both on and off campus."
The Safe Is Smart Scholarship Sweepstakes is open to all incoming freshmen and students enrolled in a secondary education institution.
To enter, go to: www.safeissmart.com/scholarship. Entrants will watch a video about campus protection and the latest in personal safety, before being able to register and submit their information.
About SABRE
SABRE, the no. 1 pepper spray trusted by police and consumers worldwide, is family owned and operated with four decades of experience and is the leading brand in personal safety. The company's law enforcement grade pepper sprays provide consumers with the same superior quality chosen exclusively by the New York Police Department, Los Angeles County Sheriff's Department and law enforcement agencies worldwide. SABRE has trained 3,500 officers around the globe on the use of force and how to use pepper spray. SABRE also has a line of consumer personal alarms and home security systems, and is dedicated to educating its customers. SABRE's Personal Safety Academy is available through certified instructors around the world to help teach personal safety skills to SABRE users. Learn more at http://www.SABREred.com, on Facebook at 'SABRE-Security Equipment Corporation', on Twitter @SABRERed or on Instagram @SABRESafety.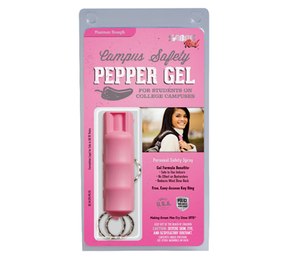 Request more info from SABRE-Security Equipment Corp.
Thank You!