PRESS RELEASE
SABRE charges forward to bring transparency to stun gun industry
---
The security and personal safety brand is launching a consumer education campaign to set the record straight about false stun gun claims
SENTON, Mo. -SABRE, the leading self-defense brand trusted by police and consumers worldwide, is launching a national campaign to educate consumers on stun guns and how they can protect themselves from misleading information.
Stun guns are a popular, non-lethal means of self-defense on the market. They can slow or stop an assailant instantly, giving their users precious minutes to escape and find help.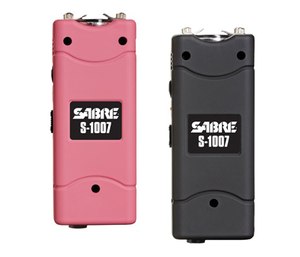 Unfortunately, the stun gun market is completely unregulated, allowing outrageous marketing claims to go unchecked
SABRE CEO/VP of Sales & Marketing David Nance and his team of personal safety experts launched the campaign due to the astronomically inflated claims some companies are making about their brands' stun gun strength. The team felt consumers needed to understand what exactly it was they were purchasing.
"Stun gun voltage is one of the biggest and most dangerous myths in personal safety," said Nance. "The false claims these companies are making about the strength of their guns may give people a false sense of security."
SABRE has released a video to help consumers understand the facts about stun guns and to be aware of the false claims other companies are making (Stun Guns and the Voltage Myth).
"Exaggerated voltage claims, ranging up to even 300 million volts, sound impressive, but are simply not possible, let alone true. The maximum voltage that can jump across the average sized stun gun's contacts is only 30,000 volts. Any guns claiming more than that are defying the laws of physics," said Nance.
Nance states that according to a United States Department of Justice / National Institute of Justice report, when it comes to stun guns, voltage is only one part of the equation--and a small one at that. The DOJ report stated that "delivered charge is best indicator of electrostimulation.1"
"What really makes a stun gun effective is the strength of its charge (measured in microcoulombs - µc). A stun gun with a rating of 0.5-1.0 µc will produce pain, while one with a charge of 1.0 µc or greater produces unbearable pain—and therefore, greater protective power. SABRE® Stun Guns provide this advanced level of charge." Nance continued.
SABRE stun guns are manufactured to be as effective and powerful as possible and have been tested by Rassettica, North America's leading testing company, to provide peace of mind to consumers.
"We have an obligation to consumers to make sure they know what they are purchasing when it comes to stun guns," said Nance. "Knowledge is power." To learn more about Stun Gun Facts please visit www.SABREred.com/shocking.
About SABRE–Security Equipment Corporation
SABRE, the no. 1 pepper spray trusted by police and consumers worldwide, is family owned and operated with four decades of experience and is the leading brand in personal safety. The company's law enforcement grade pepper sprays provide consumers with the same superior quality chosen exclusively by the New York Police Department, Los Angeles County Sheriff's Department and law enforcement agencies worldwide. SABRE has trained 3,500 officers around the globe on the use of force and how to use pepper spray. SABRE also has a line of consumer personal alarms and home security systems, and is dedicated to educating its customers. SABRE's Personal Safety Academy is available through certified instructors around the world to help teach personal safety skills to SABRE users. Learn more at http://www.SABREred.com, on Facebook at 'SABRE-Security Equipment Corporation', on Twitter @SABRERed or on Instagram @SABRESafety.

Request more info from SABRE-Security Equipment Corp.
Thank You!