SecurPass allows for full body cavity imaging
Proven technology adapted to security imaging in a corrections enviornment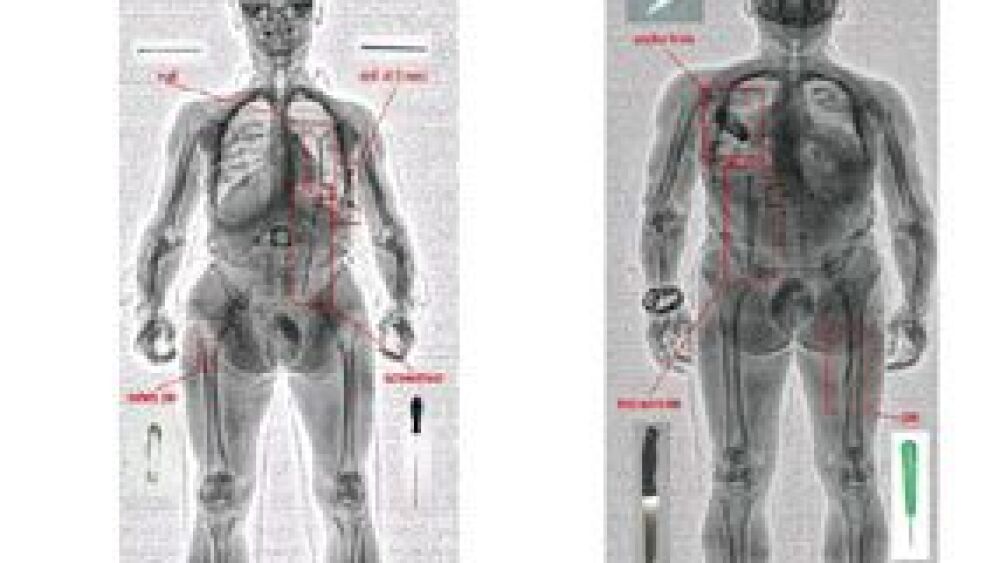 By Erin Hicks
Corrections1 Associate Editor
Not just for airports, whole-body imaging also has a very practical application in a correctional facility. President of MAS Security Solutions, George Brown realized this right away when he entered into an agreement to represent SecuPASS throughout the country for Virtual Imaging, A Canon USA Company.
SecurPass, a full body scanner is seen various applications like Heathrow airport in London and diamond mines around the world.
Unlike other body imaging devices, the SecurPass can detect contraband hidden in a body cavity. Detainees can go through wearing their jackets, shoes etc. and the device can pick up just about everything — from an object hidden inside a cast to a weapon inside a body cavity to bags of drugs deep in a detainee's stomach.
"This is not new technology being introduced to whole-body imaging," Brown said." It's proven technology being adapted to security imaging."
Brown knows first-hand the importance of this technology in a corrections environment. He formerly worked as a corrections officer at Cook County Jail in Chicago and they were one of his first prospects when he began selling the SecurPass.
"I hadn't been in the jail for 30 years, but because of the product we were able to get in and meet with key people and they immediately saw the prospects," Brown said.
He said the county purchased a SecurPass for the male receiving room and it worked so well, in a few months they purchased three more.
"The reasons our systems are of great importance to the jails is because we see within the body," Brown said. "If they've ingested something or inserted something rectally, we'll pick it up whether it was organic or inorganic."
SecurPass also has a built in feature that prevents the imaging to go through soft tissue (read: secondary sex features) to protect the privacy of those being screened
"We can still see the area, but it doesn't show the anatomy. The outline won't show up so you can't tell if it's a man or woman being screened but it will still pick up any material in that area," Brown said.
The SecurPass is not cheap, but Brown said his company is willing to work with the jail or prison to come up with a mutually agreeable payment plan. In the past, some systems have used SCAAP, Inmate Welfare Fund or ICE funds to pay for the machine. Others systems have paid for the SecurPass with drug seizure funds.
In addition, Brown said he can offer municipal lease and rental programs to accommodate systems on a tight budget. After the first year, if you can't get budgetary approval for the following year it will be taken back at no cost.
Brown said beyond the protection the equipment offers for both staff and detainees, it can also help prevent your facility from a potential strip search lawsuit.
"It's happened to Rikers Island and LA county- to name a few, where some were angry being strip searched on a misdemeanor and claimed a violation of the 4th amendment which protects against unreasonable search and seizure," Brown said. Many courts are saying you can't violate the constitutional rights of people; we offer an alternative to that."
MAS Security Solutions is a division of Medical Applications Specialists, Incorporated. CEO and founder, George Brown, is a former Corrections Officer with a degree in Institutional Corrections. MAS Security Solutions is staffed with Correction Professionals which allows for a firsthand understanding of client and industry needs.