How to buy drone detection (eBook)
Download this Corrections1 drone detection buying guide to learn key steps for product selection, purchasing and implementation
---
To download your free copy of "How to buy drone detection (eBook)" Buying Guide from Corrections1, fill out this form.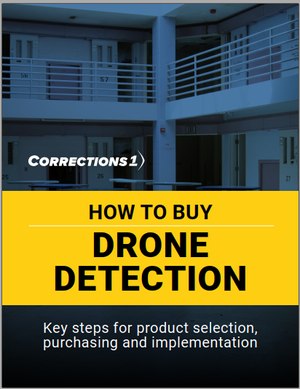 Drones are a growing security threat for correctional facilities. Hostile players are using drones to drop drugs, cellphones and weapons to inmates in outside recreation yards, even when corrections officers are supervising these areas. It's not just the influx of contraband that is a threat to human safety and prison security; it is also the chaos that such drops can cause. In August 2015, a drone dropped 144.5 grams of tobacco, 65.4 grams of marijuana and 6.6 grams of heroin into Mansfield Correctional Institution's north yard in Mansfield, Ohio. A riot ensued among the 75 inmates who saw the drop take place.
The fundamental problem with drones is that they can easily bypass the multiple layers of physical security that have traditionally kept jails and prisons reasonably safe. If institutions do not take steps to regain this control in the drone era, the consequences could be dire. There is no reason a drone couldn't be equipped with a bomb to commit a prison yard assassination – or swarms of drones used to overwhelm staff and support a wide-scale inmate escape.
This Corrections1 guide prepares correctional facilities to procure and deploy drone detection products and technology.
Included in this guide:
Key considerations before purchasing
Top implementation considerations
Questions to ask vendors
To download your free copy of the "How to buy drone detection" Buying Guide from Corrections1 fill out this form.