The answer to arterial wounds fits in your pocket
More than two-thirds of all preventable law enforcement deaths are due to hemorrhaging – here's a kit to stop the bleeding
---
By Loraine Burger, C1 Contributor
Business Name: Officer Survival Solutions (OSS)
Product: The Trauma Plate Pack and Patrol Pocket Pack
Officer/ Department: Marc C. Barry, Las Vegas Metropolitan Police Department (Retired)
Website: www.Officersurvivalsolutions.com
More than two-thirds of all preventable officer deaths are due to hemorrhaging. The Trauma Plate Pack and Patrol Pocket Pack make it feasible for every officer to carry a lifesaving kit on their person where it belongs. We talked with OSS President Marc C. Barry, a newly retired Las Vegas cop, about his invention.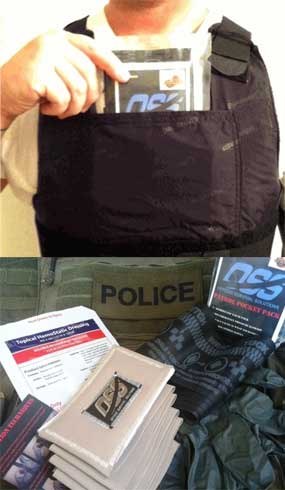 What is your signature product?
The Trauma Plate Pack and Patrol Pocket Pack are thin, non-intrusive gunshot trauma packs that fit in a uniform pocket or vest. They contain the critical items needed to treat any arterial wound, whether it's a gunshot wound or a stab wound to the artery.
The pack is designed to be broken so that if needed, it can be used on three separate injuries.
The kits include one hemostatic gauze, one OSS Combat Compression Dressing, one SWAT-T Tactical Wrap Tourniquet, one pair of OSS Tactical Black Nitrile Gloves, one Tourniquet Field Application Card, all contained within a 3x5 'skip packet.'
Where did the idea come from?
I was a cop in Las Vegas, and a former partner of mine was shot on duty and he bled to death on-scene. Officers couldn't get to him in time, and we weren't equipped with the tools to help him; SWAT had that kind of gear, patrol had nothing.
Patrol officers were given a shooting pack, which had nothing but aspirin, gauze, etc. There's nothing in there that will stop an arterial wound or save a life. I've met with hundreds of cops, and when I say, "What are you carrying now?" they all say shooting kits, and nine times out of ten they don't know what's in it. I have them open it up and they're shocked to see there's really nothing in there.
I was overseas doing contract work and saw the military using big bulky trauma pouches that have to be left in vehicles. That's when I thought, "I have to do something to make this available at home and give it functionality, small enough to carry," so I came back and developed a pack small enough to fit any uniform shirt pocket. I condensed every item and started manufacturing them myself.
How did that idea turn into a product?
I came home from being overseas and I went into production immediately. I gave the product out to officers I knew and from the feedback I got, I learned that some officers were leaving the pack in their lockers accidentally. So we designed the pack to fit in vests behind the trauma plate, so that agencies with mandatory vest policies will always have the pack on them.
What are the benefits of the packs versus similar products?
In 2009 when I created the packs there was nothing else out there like it. Now there are others but the difference is our pressure bandages are designed for one-handed application. Friends who have tried similar packs say others claim to be one-handed but it doesn't work. When you're shot, you're losing blood; your motor skills suffer immediately. The packs need to be easy to open and apply all with one hand.
How did you test it out?
Aside from being handed out to colleagues to use and give feedback, the packs have been tested and recommended by the National Tactical Officers Association (NTOA).
We had testers swim 2 miles with the pack and didn't experience any problems.
The packs are rugged enough to be skipped, thrown or kicked across a pavement surface to a wounded officer if he/she is inside a hot zone and rescue is not readily available. They're 3x5 inches and less than half an inch thick.
The packs should be replaced every three to five years.
How does it work? 
The first aid supplies are fairly self-explanatory, but they include an application card that explains each item, and we travel to departments (on our dime) who have ordered the packs to show them personally how they work. If we can't get to the department, we send them DVDs, we video chat with them, anything we can do to help.
The reason behind the cards is so that – although the packs are intended for personal use or to help a partner – you could drop your pack so that a civilian could use it. For example, in an active shooter scenario, officers are taught not to stop for victims until we've subdued the threat. If you're in a school and a child is wounded, you have to step over the child and continue to seek out the gunman, as painful as that may be. These cards would allow you to toss the pack to a teacher and keep moving, and they could figure out how to use it.
Where can the packs be purchased?
Our website sells the Trauma Plate Pack and Patrol Pocket Pack for $44 each. The packs can also be customized to cater to each department's needs.  (Gauze can be substituted for another kind of bandaging, etc.)
Our goal was to make these packs feasible. The bottom line is to save cops, by getting every officer covered. So if a department calls and says they're only buying a certain amount because of budgeting, we work with them to make sure every officer has a pack.  
Any interesting facts about the product/ company? 
We've received some incredible testimonials from officers who unfortunately were wounded on duty but thankfully had the packs on them. 
"I never thought I would be using it on myself, but I did! On the night of August 16th 2012, I was shot twice, along with my partner. We both were ambushed and left bleeding to death. OSS saved my life!"  — Christopher Howell, Chief of Police, St. Croix U.S. Virgin Islands
"On the morning of January 29, 2013, I issued your Trauma Plate Packs to every officer in my agency. Little did I know, hours later I would be using one to render aid to a downed officer, who had been shot three times. I found some comfort during a very stressful and hectic moment, knowing I had the ability to help. A $44 Trauma Pack proved to be invaluable that day. It is my sincere believe every officer should be issued this life-saving equipment." — Lieutenant Terry Stayer, Haltom City Police Department