FARO's handheld laser scanner is portable, user-friendly
The Freestyle Handheld Laser works with no warm-up time needed, and can scan in tight and hard-to-reach areas
---
By C1 Staff
Faro Industries just announced the release of their newest scanner — the Freestyle Handheld Laser Scanner.
It's equipped with a Microsoft Surface™ tablet and features real-time visualization by allowing the user to view point cloud data as it's captured.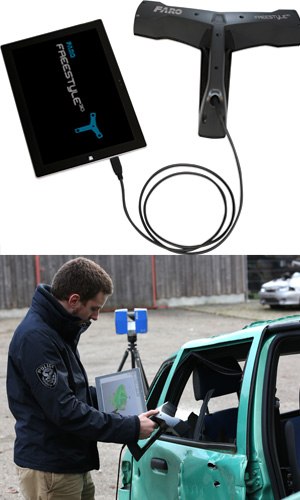 It can scan from up to 3 meters away and captures up to 88K points per second and boasts an accuracy of more than 1.5 mm.  
The Freestyle Handheld Laser works with no warm-up time needed, and can scan in tight and hard-to-reach areas like car interiors and under furniture.
Users can pause a scan and then resume data collection without using any artificial targets, thanks to Freestyle's memory-scan technology.
The Freestyle3D can be employed as a standalone device, or used in concert with FARO's Focus X 130 / X 330 scanners.
Point cloud data from all of these devices can be seamlessly integrated and shared with all of FARO's software visualization tools including FARO SCENE, WebShare Cloud, and FARO CAD Zone packages.
For more information, visit www.faro.com.

Request product info from top Corrections Software companies
Thank You!