PRESS RELEASE
Cellebrite Connect Virtual Summit – November 11 and 12
---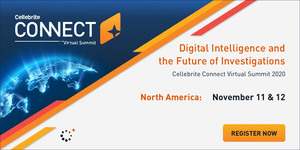 Your transformation journey starts at Cellebrite Connect Virtual Summit 2020. Join us to learn how your agency can build a Digital Intelligence (DI) strategy that leverages your technological and organizational capabilities, making digital data more accessible, manageable, and actionable.
This virtual summit features: A deep dive into creating a digital transformation vision, insights into industry trends and challenges brought to you by industry experts and analysts, real-world stories from the field, and a sneak peek into the future with Cellebrite's R&D.
Register now to walk away understanding what you can do today to build your agency for tomorrow.
About Cellebrite 
Cellebrite is the global leader and trusted provider of digital intelligence solutions for law enforcement, military, private enterprises, and now correctional facilities worldwide – helping organizations of every size accelerate investigations by addressing the growing challenges of our expanding digital world. Cellebrite's digital intelligence solutions help extract and decode forensic evidence from the latest mobile phones, computers, and the widest range of digital sources (video, health, cloud, and more) as part of criminal and corporate investigations. These vast amounts of data are automatically analyzed using the latest Artificial Intelligence (AI) and machine learning to give investigators and prosecutors exactly the evidence they need to close cases fast. In addition, our solutions seamlessly integrate existing infrastructures allowing organizations to make command decisions efficiently, manage the data, and maintain compliance. 

Request more info from Cellebrite
Thank You!