Fla. jail replaces in-person visitations with video
Prisoners now meet visitors via monitors located in separate buildings
---
By Shoshana Walter
The Ledger
FROSTPROOF, Fla. — Video screens will soon replace the quarter-inch thick sheets of scratched plexiglass and scratchy-sounding phones separating visitors from inmates at the South County Jail.
When the construction of new buildings and renovations to the existing jail are complete, sheriff's officials say inmates will no longer meet their visitors in person. Instead, as in many jails around the state and nation, inmates and visitors will be in separate buildings, viewing each other on video monitors.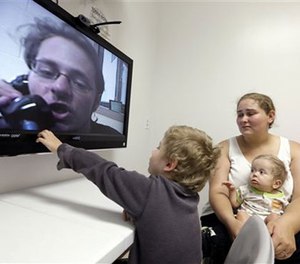 It's a welcome change for those who are tired of the older facilities, while others imagine the new system will feel alienating. Polk sheriff's officials are focused on other issues.
"When we move them less, it costs less," said Sheriff Grady Judd. "In the new jail, they won't ever have to be moved to the visitation area. It enhances security and ultimately saves supervision costs."
Florida jails began implementing video visitation systems more than a decade ago. Polk's is part of a $2.3 million jail expansion plan that was approved in 2005. Construction on a new jail tower and on the visitation building is expected to be complete in mid-April or May.
At that point, inmates will be moved from the old South County Jail complex into the new, three-story facility and renovations to the old building will begin.
The jail houses about 1,010 beds.
The new building will include about 770 new beds, giving the jail a total of about 1,780 beds.
Inmates currently walk from their dorms to a separate visitation area within the jail where they use faint-sounding phones to talk with visitors on the other side of plexiglass windows.
"The inmates will no longer have to leave their building to walk into the area for their visits," said Capt. James Hogan, commander of the South County Jail. "We won't have to have deputies in those jobs. We're in a crunch, so we're trying to make the facility run as efficiently as we can."
In the current system, visitors have been able to smuggle contraband into the jail by either damaging the plexiglass or by leaving items inside trash cans, where they could be retrieved and delivered to inmates by jail trustys.
A staff member now supervises each trusty during chores in the visitation area, but with the new system such supervision and the security would become unnecessary, Hogan said.
Other jails
A desire to cut costs has motivated many Florida counties to switch to video visitation.
After officials at Orange County Jail installed the system in 2003, spokesman Allen Moore said the jail expanded visitation hours, leading to less congestion and less demand on jail staff.
Before video visitation, each inmate was strip-searched after their in-person meeting with visitors, who were required to swipe their hands and walk through drug-sniffing dogs.
Moore said the video system made the jail more efficient. Without certain security requirements, corrections officers were able to spend more time inside the jail.
"It's been very, very successful here," Moore said. "It is much less staff intensive. And since it's off-site we're able to use civilian employees instead of corrections officers, which always lowers costs."
Orange County is working on an online system for visitation requests. Currently visitors can come between 9 a.m. and 10 p.m., and are allowed three 45-minute visits per week. Appointments are made by phone.
In Polk, the cost of the video system in both the new and old facilities is about $1.7 million.
Visitors will enter a separate building from the jail parking lot where they'll be greeted by a single staff member and take seats at any of the 106 carrels. Each dormitory, including the new infirmary and isolation area, also will have a certain number of monitors. Visitors will be able to talk to inmates while sitting in the carrel.
Because of the number of carrels, Polk County facilities director Mark Donald said visitors will no longer be required to make appointments.
Hogan said the hours for visitation will expand with the new system, although visitors will still be required to travel to Frostproof.
Since renovations on the old jail have not yet begun, Hogan said he is still working out many details. Implementation of the new system could take more than a year.
Reactions
Many are not happy about the new system.
Robert St. John, who has spent some time behind bars at South County Jail, wondered why the videos couldn't be made available online.
That would place less of a burden on family members to travel to Frostproof, he said, and might save on costs of staffing the new visitation building.
"It would make more sense. It would save on the cost of gas mileage," he said.
Others said there's no replacement for a face-to-face meeting. Family members and inmates find comfort in in-person visits that many say video monitors cannot provide.
"Inmates certainly love it when they receive a visitor. To know that there's someone out there who cares," said Catherine Parks, who recently visited her son at South County Jail.
Parks said visiting her son in jail was stressful because of the hard-to-hear phones and scratched plastic barrier. "It's like he was so close, yet so far away." Considering the alternative, she said video visitation could be an improvement. But she has realistic expectations.
"It's just jail," she said. "There are no bells and whistles."
Copyright 2010 Lakeland Ledger Publishing Corporation