How to buy inmate tracking (eBook)
Download this Corrections1 inmate tracking buying guide to learn key steps for product selection, purchasing and implementation
---
To download your free copy of "How to buy inmate tracking (eBook)" Buying Guide from Corrections1, fill out this form.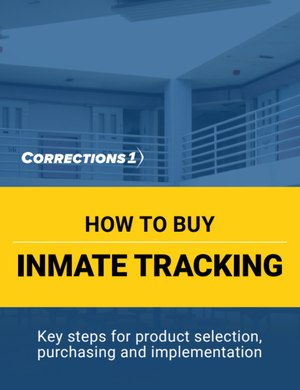 During lunchtime headcount, Inmate Smith, clearly written on your paper headcount board is not in his cell. Maybe that's a pencil line next to his name to indicate he's gone, but it may have been erased and you have no detail as to when he left the housing unit, where he went and when Smith is due to return.
You get on your radio and contact Control. Control confirms she has Smith counted in her manually updated count sheet on the Control desktop computer. After locking down the housing unit and conducting facility-wide counts for 60 minutes you are notified by your transportation unit that Smith has been out for court since right after breakfast. Transport almost advised Control they were taking the inmate to court but got distracted by an unruly inmate and forgot to notify anyone they were taking Smith to court.
If this sounds like a common situation you face, it is likely your facility would benefit from a modernized approach to inmate tracking.
Correctional facilities across the country are improving their methods of inmate tracking through technology. Agencies are seeing more consistent and accurate facility safety and accountability through the implementation of RFID (radiofrequency identification) systems to better track jail and prison inmates.
This Corrections1 guide addresses the issues to consider in the acquisition of products to assist with inmate tracking, and includes:
Things to consider before buying
Implementation considerations
Questions to ask vendors
Company directory
To download your free copy of "How to Buy Inmate Tracking" Buying Guide from Corrections1, fill out this form.