United Shield International Designs New Ballistic Ladder Shield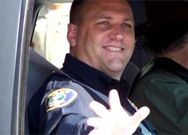 Traverse City, MI – United Shield International, a leading designer and manufacturer of ballistic protection equipment, has designed a new ballistic ladder shield for use during tactical operations. This shield enables officers to have quick and easy access to elevated areas, such as buildings and vehicles, while providing maximum personal protection.
The ladder is made from lightweight aluminium, and is fitted with articulated 'supergrip' feet to provide a stable non slip platform. The top rung of the ladder is fitted with a padded rest bar to protect the shield and to provide additional stability when it is resting against objects. It is also fitted with adjustable legs enabling it to be used on a standalone basis. The shield incorporates the latest ballistic technology giving protection to NIJ Level IIIA, and has a centrally positioned view port. The Ladder Shield is manufactured in three different sizes: medium (22" x 40"), large (24' x 51") and grande (24" x 69") , ensuring that there is a version available to suit a variety of applications.
Commenting on the launch of this new product, Paul Banducci, President of United Shield International said: "United Shield is at the forefront of ballistic protection innovation and design. We are delighted to introduce this exciting new product to our existing range of ballistic shields, helmets, body armour, insert plates and EOD protection equipment. I am sure that our many Police customers around the world will find that the Ladder Shield makes a valuable contribution to their range of tactical equipment".
Alan Gould from Northamptonshire Constabulary said: "The Ladder Shield is a fantastic bit of kit, which is remarkably light and easy to use. United Shield has been very responsive in the development of this new shield, which has been very quick to take from idea, to delivery. Initial feedback on usage of the ladder shield has been very positive".