Inmates at Texas prison produced faulty military helmets
Federal prison inmates produced combat helmets for the U.S. military with defective materials, shoddy workmanship and deceptive practices
---
By Tom Steele
The Dallas Morning News
WASHINGTON — Inmates at a federal prison in Beaumont produced combat helmets for the U.S. military with defective materials, shoddy workmanship and deceptive practices — putting service members at risk, according to a Department of Justice report.
Defects in the helmets included "serious ballistic failures, blisters, and improper mounting-hole placement and dimensions," Justice's Office of the Inspector General said. "Helmets were manufactured with degraded or unauthorized ballistic materials, expired paint ... and unauthorized methods."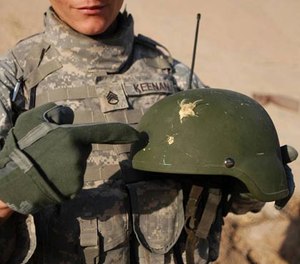 Inmates were told by their supervisors not to reject helmets that failed inspection.
The watchdog agency's investigation resulted in nearly 150,000 helmets being recalled, costing the federal government more than $19 million, according to the report released earlier this month.
The investigation did not find any evidence that U.S. troops had died or been injured as a result of wearing a defective helmet.
Ohio-based ArmorSource was awarded a $30.3 million Department of Defense contract in 2006 to manufacture Advance Combat Helmets and later subcontracted the helmets' production to Federal Prison Industries, a government-owned corporation that employs inmates in order to give them job skills. FPI was separately awarded a $23 million defense contract to produce Lightweight Marine Corps Helmets.
A surprise inspection by military officials and the Office of Inspector General in 2010 found that inmates at the medium-security prison were using improvised tools on some of the helmets, which damaged the helmets and also created a security risk at the prison.
Investigators also found that FPI preselected helmets that would be inspected, despite the contract requiring that helmets be inspected at random.
"Manufacturing documents were altered by inmates at the direction of FPI staff that falsely indicated helmets passed inspection and met contract specifications," the report said.
According to a lawsuit against ArmorSource — settled earlier this year for $3 million — inmates' jobs were threatened if they tried to pull faulty helmets from the production line.
The report included a photograph of a large indentation in a mannequin head after a 9mm bullet was fired into a helmet.
"ArmorSource did not provide adequate oversight of the manufacture of the ACH helmets, which resulted in helmets that were not manufactured according to contract specifications," the report said.
As a result of the investigation, 126,052 Advance Combat Helmets were recalled — costing the government $19,083,959. Three thousand of approximately 23,000 Lightweight Marine Corps Helmets that were produced had been delivered to the Department of Defense; they, too, were recalled, and the remainder were quarantined.
In a statement to The Beaumont Enterprise, Federal Bureau of Prisons spokesman Justin Long said new policies have resulted in "improved management staff oversight, proper control of quality procedures, proper control of documents, proper control of nonconforming material, training, and implementation of corrective action."
FPI told NBC News that the faulty helmets were an isolated incident that occurred nearly a decade ago.
The Department of Justice said the Beaumont manufacturing facility was closed and all employees were moved to other jobs in the federal prison system. There was no criminal prosecution related to the helmets.

Request product info from top Corrections Body Armor companies
Thank You!