Product Review: Revision Eyewear
Most often when we go to war/battle or as a SWAT Officer to the JOB, we consider which protective gear we need - and we often start with the really heavy stuff and go lighter as we dress/decide what to wear/how to dress for the op, and or scenario.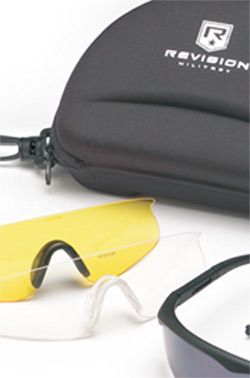 It's pretty obvious that one of the Most Important aspects of working in the tactical arena and operating in this intense environment is Seeing what/who we're fighting – or who we're going after, as well as any obstacles in the way. So our EYE-PROTECTION should be a pretty important aspect.
It is proven statistically that although our eye area is only roughly .05% of our frontal silhouette, eye injury has risen to between 10-13% of ALL casualties suffered by our military. It is estimated that nearly 90% of military eye injuries are preventable. Considering the increase of injuries and that so many are preventable, I can't say strongly enough – WEAR YOUR DAMNED EYE PROTECTION.!!! Keep your eyesight intact – you only get TWO of them.
When we are at the Range, the RSO - WILL NOT allow us to shoot unless our Eyes and Ears are on. So it would seem pretty obvious that Eye protection should be used on Each and Every Operation/Job we do.
Selecting the Proper eyewear is often a difficult task at best. We have Fit, Functionality, Design, Style, Cool-Guy points, Color, Shape, Where, When, Why we'll wear eyewear, etc…to consider when going thru the selection process.
Not too long ago, I received several pair of Revision Eyewear's Sawfly's and immediately tore into the box to see what was so darned special about these glasses, that the Canadian Department of National Defence (DND) had purchased 100,000 pair of them. According to the DND the Sawfly exceeded the DND destructive testing requirements, offered superior impact resistance, provided excellent optical performance, and ranked extremely well in field trials. By years end, 2005, all Canadian ground forces are to be issued Sawfly ballistic eyewear. OK so now I know why they bought so many. Now let me wear them for a while.
I wore my Revision Eyewear for over Four months. Whether on the Boat, on the Dock, in the kayak, on the Range, or at the In-Door Range, fishing, or driving cross country, I wore Sawfly by Revision Eyewear. And from the beginning, I have to say I was pretty darned impressed by all the different capabilities and aspects of this eye protection.
I quickly determined these Sawfly's were everything they needed to be and more. They arrive packed in a zippered carrying pouch. Not that I'd ever use it, but lots of folks do. I'd rather stow it inside my pack, than clip it off to the pack.
Inside the zipper-pack, are Three lenses. Clear Lens, Solar Lens (dark colored for use outdoors/sun protection)and Low-Light Lens (Yellow ). A few other interesting items can be found in the zipper-pouch, head strap, cleaning cloth, each lens comes with a fitted nose-piece. What a great idea. You don't have to remove it when you replace colored lenses for different applications.
An extremely impressive quality of this lens; is it's High Impact Resistance capability. When the eyepiece was struck by 12gauge #6 pellets at 32 feet, the rds did not penetrate. On several different tests, the rds impacted the lens and caused exterior damage, However, there were no penetrations. Now I'm not going to allow myself to be shot while wearing protective glasses, nor do I promote it, just because they are capable of stopping the rd. However, knowing that the eyewear in front of my eyes is capable of stopping 12gauge rds from penetrating, makes me feel extremely confident.
While wearing my Revision Eyewear, I also became aware of something almost immediately after putting them on. I could see more clearly and my eyes were less strained. I drive tens of thousands of miles cross country annually, and operate boats on the Water all year long, often under direct sun. Revision Eyewear, is the first set of glasses I wore that seriously reduced my eye strain.
They were easy to clean, easy to change lenses, fit me for all the uses I require eyeprotection for and don't look too bad either.
You should try them on before you buy. Make sure the size you buy fits your head. They are available in TWO sizes. Large and Medium. I prefer the Large for my thick-bullethead, But many face-sizes will require the Medium. The headstrap which easily clips into the end of the earpiece, is a nice touch and something I use whenever I wear mine. Especially while on the boat. Don't want to lose anything over the side, especially my eyewear. The headstrap easily clips on or off. As well as fits comfortably under Ballistic-helmets and Pro-Tec helmets equally. The earpieces are extendable, offering just one more special adjustment. These adjustments, along with all their impact resistance protection and choice of colored lenses, clearly make these glasses a great piece of Safety Gear.
Available at Extreme Outfitters – MSRP = 151.20.
Of course Military and Law Enforcement pricing is available.
Steven C. Bronson
Editor in Chief