PRESS RELEASE
New Year, New Boots From Original S.W.A.T.
---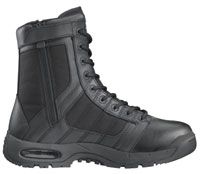 Salida, CA -- Original S.W.A.T. rings in the New Year with 2 new boot styles, scheduled for debut at the 2007 SHOT Show in Orlando, FL this month.
The two new models are built upon Original S.W.A.T.'s exclusive new Metro Traction slip- and oil-resistant outsole, designed for urban environments. The company is introducing an all new 10 inch model, the 10" MTO, and re-introducing its popular 9" Air Side Zip boot, re-named the 9" Side-Zip MTO, updated with the new and improved outsole.
In addition to the Metro Traction sole, both boots feature the Arch Ladder Tread, a unique tread pattern on the arch, designed for extra grip on rope rappels. They are airport-friendly with non-metallic shanks and lacing hardware. The rubber toe bumpers cut down on scuffs, protect the foot, and increase durability. They both have durable moisture-wicking inner liners and removable orthotic footbeds.
Due to numerous customer requests, the 10" MTO includes a rust-proof speed lacing system with reinforced eyelets. The upper is made from durable nylon and leather, with a comfortable suede collar. Like its predecessor, the 9" Side-Zip MTO features an air-cushion in the injection molded EVA midsole for added comfort. It too has a nylon and leather upper, with a convenient YKK® side zipper with Velcro® secure tab.
To preview these boots and to take advantage of SHOT Show specials, visit Original S.W.A.T. at SHOT Show booth number 9155 on January 11 – 14, 2007. Available in March 2007. Colors: Black. Size range: Regular Width (D) 5 - 11.5, 12, 13; Wide Width (EEE) 8 - 11.5, 12, 13. For more information, call Original SWAT Footwear Co. at (209) 545-2500.