PRESS RELEASE
Thorogood Introduces First Structural Fire Fighting and Haz-Mat Boot
---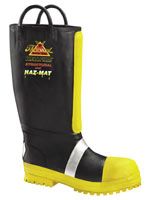 Merrill, Wisc. - When firefighters are called into action, they could be facing anything. Traffic accidents with hybrid batteries, big industrial sites and even single family dwellings can involve the release of hazardous material chemicals against which standard leather or rubber firefighter boots offer inadequate protection. Thorogood has developed the Hellfire Structural / Haz-Mat Firefighting Boot to address this serious safety concern. The Hellfire Haz-Mat is an improvement on the already popular and field-proven Hellfire rubber design.
The Hellfire Structural / Haz-Mat is the first boot certified to both NFPA 1971 (structural fire fighting) and NFPA 1992 (Splash-Protective for Haz-Mat). It includes built-in layers of protection against high heat and high-tech A and B-rated chemicals. This boot is not only the most technically advanced fire boot on the market, it also boasts the lightest weight and the most comfort features of any rubber boot made.
The Hellfire Structural fire protection capabilities come from multiple layers of flame-suppressing materials. Outside the boot, high temperature-resistant reflective patches reduce heat transference and provide high visibility protection. Inside, a single-pieced closed cell Neoprene sponge lining provides comfort and insulation that won't absorb perspiration or water. This unique Thorogood design prevents against steam burn injury when exposed to heat.
Chemical resistance begins with a dipped neoprene synthetic latex outer layer that provides a seamless, leak-proof and highly puncture-resistant barrier. As different classes of liquid chemicals can penetrate different kinds of rubber, the Hellfire Haz-Mat also includes multiple layers of diverse types of rubber. Each layer possesses its own chemical resistance properties, so the total effect is protection from a broad spectrum of various hazardous chemical agents. Ordinary firefighting boots, using natural rubber, provide only very limited chemical resistance.
Hellfire Haz-Mat boots include the most comprehensive protective and comfort technology available. An oversized steel cap allows more internal insulation from heat and provides increased toe room comfort. Similarly, the stainless steel midsole is located farther away from the insole than in other manufacturers' designs, providing better insulation from electrical shock and superior foot comfort.
Why have so many departments moved to leather footwear? Because they are lighter weight and provide more comfort. This boot's weight and fit compares to that of most leather fire boots. Long hours of extreme exertion at the site of an emergency can be agony in boots that aren't comfortable. Hellfire Haz-Mat boots have been designed to provide lasting comfort. Lightweight, generous cushioning (6 mm of closed-cell neoprene sponge) reduces fatigue. Thorogood has cleverly used the insulation layer as an active structural element to reduce overall boot weight. Meanwhile flat-tacked pull loops resist skin abrasion around the calf area.
Because emergency scenes are inherently dangerous, Hellfire Haz-Mat boots include numerous features designed to provide secure footing and general safety. A vulcanized polyurethane/rubber-lugged outsole - - exclusive to Thorogood among fire fighting boot manufacturers - - is highly abrasion resistant, is flexible in low temperatures, and has excellent softness for aggressive traction. This polyurethane/rubber outsole is a revolutionary improvement over carbon rubber outsoles as it is highly heat-resistant and provides a soft, tacky, high-traction surface with an NBS abrasion index of over 300.
The Hellfire Haz-Mat doesn't neglect other parts of the boot: A cushioned shin guard includes a rung-gripping texture while an overall bright yellow and reflective color combination makes the boot visible in low-light emergency conditions.
In total, the first response protective features built into Hellfire Structural/Haz-Mat boots make them the necessary PPE in every firehouse. As every firefighter knows, it pays to be prepared. The additional responsibilities placed upon firefighters by homeland security preparedness only add to the argument for equipping firefighters with the very best tools and protective clothing available. Thorogood's Hellfire Structural / Haz-Mat Firefighting Boot answers the call of duty.
Thorogood, a division of Weinbrenner Shoe Company, Merrill, WI., leads the industry in fire, rescue, uniform and safety footwear. For more information or to find the Thorogood dealer nearest you, call 1-800-826-0002 or visit www.weinbrennerusa.com.