Gang rivalry led to deadly August Chino, Calif. prison riot
---
By Don Thompson
The Associated Press
SACRAMENTO, Calif. — A riot at a Southern California prison that left more than 200 injured and two buildings destroyed was triggered by an "ongoing racial street war" between black and Hispanic gangs, corrections officials say.
The Aug. 8 fight erupted in a section of the California Institution for Men in Chino that houses newly arriving inmates from Southern California and ex-convicts returning to prison for parole violations.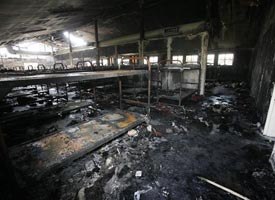 Unaffiliated inmates joined the brawl after gang members began fighting, Terry Thornton, a spokeswoman for the California Department of Corrections and Rehabilitation, said Wednesday.
"It's just an ongoing racial street war," said Thornton. "When they come to prison, they bring their animosity with them."
The gangs were continuing a smaller fight that began at the prison in May, she said, declining to name the Los Angeles County gangs for fear of sparking another disturbance.
Thornton said officials had delayed revealing the cause of the riot to avoid jeopardizing their investigation. They decided to make their conclusion public while announcing that the Chino prison had ended its state of emergency and resumed a normal schedule on Friday.
Officials have cited 222 inmates for rules violations that could lengthen their sentences. One of the inmates was accused of setting a fire that burned down a dormitory.
In addition, prison investigators plan to ask the San Bernardino County district attorney to file criminal charges against 25 inmates for offenses that include attempted murder, conspiracy to commit murder and battery with a deadly weapon.
In all, 240 inmates were injured and two buildings destroyed.
The two dormitories are being rebuilt at a cost of $5.2 million. Nearly 1,300 inmates were moved to other prisons after the riot.
The riot came as the corrections department tries to desegregate cell houses and dormitories to comply with a 2005 U.S. Supreme Court ruling. For decades, the department kept inmates of different races separated in their sleeping areas in an attempt to avoid interracial fights.
The department is testing its integration plan at two prisons southeast of Sacramento, with mixed results. It has not expanded the plan to other prisons because of severe budget cuts that include furloughing and laying off thousands of employees.
Fights between inmates occur daily but rarely become full-blown riots, Thornton said.
In response to a previous records request from The Associated Press, the department said it does not keep a database of riots, their causes or the number of resulting injuries, in part because it has no formal definition of when a fight grows into a riot.
However, the department described disturbances as "riots" 19 times in the past four years. News releases for those riots list seven as racially motivated and six as gang-related. Causes for the others were not released.
Two inmates were killed and 551 injured in those melees, which also injured 19 prison guards.