11 NY COs injured at courthouse in inmate pipe attack
The inmate broke a pipe off the wall and used it as a weapon
---
By C1 Staff
NEW YORK — Eleven corrections officers were injured after an inmate attacked them with a pipe.
The inmate became combative Wednesday night after he refused to be transported from the Bronx Criminal Courthouse, CBS New York reported.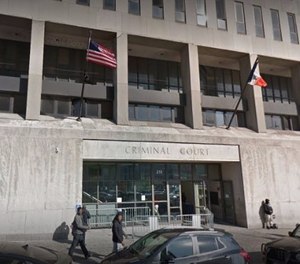 The inmate began to fight officers who attempted to move him from his cell. He then allegedly broke a pipe off the wall and began hitting multiple officers. 
A total of 11 COs were transported to the hospital with non-life-threatening injuries. The inmate was taken to the hospital as well. 
DOC employee Peter Thorne said in a statement that "any assault on a member of our staff is unacceptable and this inmate will be arrested."
"Our officers put their safety on the line on behalf of New Yorkers every day and we thank them for all they do," Thorne said.
An investigation is ongoing. 

Request product info from top Prisoner Transport companies
Thank You!