Sheriff Joe pleads not guilty to criminal charge
Ariz. Sheriff Joe Arpaio has pleaded not guilty to a criminal contempt-of-court charge
---
Associated Press
PHOENIX — Sheriff Joe Arpaio of Arizona has pleaded not guilty to a criminal contempt-of-court charge less than two weeks before he tries to win his seventh term.
The lawman of metro Phoenix opted to enter his plea in a court filing Friday instead of during a courtroom appearance. Arpaio was charged for defying a court order to stop his immigration patrols in a racial profiling case.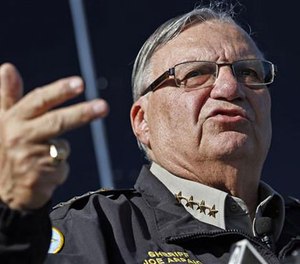 The sheriff prolonged the patrols for more than a year. A judge later determined Arpaio's officers profiled Latinos and said he believed Arpaio did it to benefit his 2012 campaign.
The sheriff has acknowledged the violation but insists it wasn't intentional.
He has been charged with a misdemeanor. If convicted, Arpaio could face up to six months in jail but wouldn't be barred from office.
Arpaio's trial is scheduled for Dec. 6. His lawyers also asked the court Friday for a 120-day continuance so they can prepare.