Trial begins for neighbor accused of killing N.J. correctional police officer during feud
Lawyers for CO William Durham's family argued Zachary Latham lured the victim into the fatal fight in a bid for "TikTok fame"
---
By Matt Gray
nj.com
VINELAND, N.J. — The son of a man stabbed to death during a brawl between neighbors in 2020 testified Thursday that the alleged killer forced him off the street with his vehicle as he rode his bike earlier that day.
Zachary T. Latham, 20, is accused of fatally stabbing William T. Durham Sr., 51, during a brawl at Latham's house in Vineland on May 4, 2020.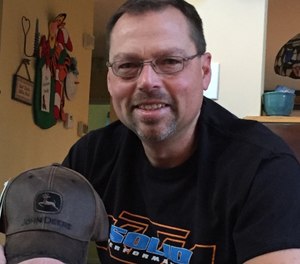 Durham was a married father of two sons who worked as a corrections officer at South Woods State Prison in Bridgeton.
The killing followed a weeks-long feud between the families that began with a dispute over speeding and included claims that Latham harassed the Durhams and made several social media posts in which he allegedly mocked the family.
The animosity came to a head on May 4 when the Durham family claimed Latham drove up behind 17-year-old-old Gage Durham as he rode out of his driveway on his bike and swerved his vehicle toward the cyclist. Durham testified that he jumped onto the curb to avoid Latham's vehicle as the defendant honked his horn and drove away.
Hours later, the Durhams confronted Latham over the incident, leading to the fatal fight.
Latham is charged with second-degree reckless manslaughter, aggravated assault and weapons offenses, and his trial began Thursday morning.
The showdown was captured on cellphone video taken by Latham's wife, Sarah, and shows a bloody brawl that began on the driveway of Latham's home and continued into the garage.
Assistant Prosecutor Caitlin Flynn conceded to the jury that the Durhams came onto the Latham property prepared to fight, but argued that Latham could have retreated into his home and called police. Instead, he chose to arm himself with a knife and stun gun and use lethal force against the victim, she said.
"The defendant escalated that confrontation inappropriately with the use of deadly force. He sought to use a deadly weapon," Flynn said. "Would a reasonable person have entered their home, grabbed a knife, left their home, to come and meet the Durhams when this situation was already hostile or would a reasonable person have gone into their home, shut the door and called the police?"
She asked the jury to remember that a father and husband is now gone because of Latham's actions.
Public Defender Nathan Perry argued that the Durhams were the aggressors, were physically larger than the defendant and trespassed onto Latham's property, endangering his client and family on the day of the killings.
[RELATED: NJ correctional police officer stabbed to death in fight with neighbor]
"They brought the fight to him," Perry told the jury. "They were on a mission to get him. They were gonna stop at nothing to get at him. Understand this, Zachary Latham sits here today only because he refused to submit to a savage beating at the hands of three big, capable men who collectively outweighed him by well over 300 pounds."
Latham, who claimed he acted in self-defense, had no duty to retreat from aggressors entering his property, Perry said, and was entitled to be armed at his home.
While he acknowledged the death was a tragedy, the Durhams "visited this great sadness upon themselves," Perry said, noting that his client was "pummeled" during the brawl and suffered a concussion.
Durham Sr.'s wife, Catherine, allegedly assaulted Sarah Latham during the encounter, ripping hair from her head, the defense stated.
As the first witness to take the stand, Gage Durham described his father as a mild-mannered man who enjoyed dirt bike riding, camping and other activities with his two sons.
The son said he was riding his bike to a nearby area with trails when the first encounter with Latham occurred on May 4.
A still photo from the Durhams' Ring camera was presented as evidence, showing Gage Durham on the driveway at his home and what was identified as Latham's vehicle parked nearby, but no video was presented showing Latham pulling up behind the bicyclist.
The prosecution focused on the events that unfolded after Durham Sr. and his wife learned about the earlier alleged incident.
As Latham drove home later that day with his wife and two friends in the vehicle, Durham Sr. and his wife confronted them on the street in front of the Durham home about the earlier incident with their son, according to videos of the incident recorded by both parties. In the videos, Latham denied swerving toward the younger Durham, but claimed he honked because the cyclist was in his way.
Latham then told Catherine Durham, "Get out of my face," and swatted at her phone, allegedly making contact with the woman, according to prosecutors, and then continued driving to his house, about 500 feet away.
The Durhams followed and, when Latham arrived home, prosecutors say he grabbed a knife and stun gun from inside his house and went outside to face Durham Sr. and his sons, who were unarmed, as they walked up his driveway.
Durham Sr. and his sons fought with Latham and his two friends as Sarah Latham screamed and the stun gun repeatedly crackled in the video, which was played for the jury.
During his testimony on Thursday, Gage Durham recounted the events that played out during the fight, describing how he tried to help his father and brother.
"At that point, there was already blood everywhere," he said. "At the time, I didn't know who was bleeding."
After the fight ended, he recalled his father looking unwell.
"His face was just pale white. That's when it registered with me what was going on," his son testified. "You could tell he was in a lot of pain."
Durham Sr. was rushed to a hospital, where he later died of his injuries.
The defendant stabbed Durham Sr. in the back and left underarm, according to prosecutors. The underarm wound punctured a lung.
On cross-examination from defense attorney Christine Long, Gage Durham acknowledged that the family entered the Latham property despite warnings to leave and admitted he threw punches and kicked and stomped on Latham during the brawl.
He took those actions, Durham said, "Because, clearly, my brother was being held down."
The conflict between the families began about six weeks before the killing after Catherine Durham told Latham to slow down as he drove on Thornhill Road, the street where they both lived, prosecutors previously said.
Latham recorded video of the interaction and posted it to his TikTok account, labeling his neighbor a "Karen."
He mocked the family online, posting another video showing a confrontation the defendant had with William Durham Jr.
Catherine Durham contacted police April 25 to report that Latham had "harassed her on several occasions," according to a department report.
Latham began slowing down in front of the Durham home and revving his engine each time he passed, she told police. "He has also blown her a kiss as he sped by while traveling to his house," according to the report.
Lawyers for Durham's family argued Latham lured the victim into the fatal fight in a bid for "TikTok fame" and should have been charged with first-degree murder.
Catherine Durham and the couple's sons were also charged in the incident. She was charged with simple assault and criminal trespass, but the charges were later dismissed.
The sons were each charged with third-degree aggravated assault and fourth-degree criminal trespass. Durham Jr. was admitted to the pre-trial intervention program on his charges, according to court records. Since Gage was a juvenile at the time, the outcome of his charges is not listed in public records.
Latham was released from jail to await trial after he was originally charged, and relocated to Florida, where he was arrested after allegedly threatening someone there with a pellet gun.
His release in the Durham case was later revoked and he was returned to New Jersey.
The trial is scheduled to resume on Tuesday.
©2023 Advance Local Media LLC.
Visit nj.com.
Distributed by Tribune Content Agency, LLC.
McClatchy-Tribune News Service