Ky. COs want city to pay for damages to their cars caused during civil unrest
More than 35 vehicles belonging to COs have been vandalized, including busted windshields, windows, headlights and body damage
---
By Sarah Calams
LOUISVILLE, Ky. — Officers with the Louisville Metro Department of Corrections are asking the city to step up and pay for damages caused to their personal vehicles during civil unrest in recent weeks.
WAVE3.com reported that more than 35 vehicles belonging to corrections officers have been vandalized, including busted windshields, windows, headlights and body damage. Estimated damages, which were submitted to Mayor Greg Fischer's office, add up to more than $25,000.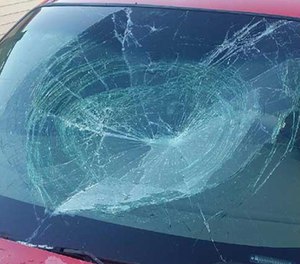 "It doesn't matter where you park, in the garage, on the street," Daniel Johnson, president of the union representing corrections officers, said. "Our jail doctor's car got spray-painted and all he is trying to do is help people. It's extremely frustrating, especially since the Mayor paid for the protesters' items. Now we are asking for the same thing for the city employees."
Johnson said some city employees have already paid hundreds of dollars to get their vehicles fixed.
"All they are doing is providing a service for this city," he said. "We are requesting for the city to step up and help take care of its own employees who are sacrificing so much to continue to work downtown during this difficult and dangerous time of public unrest."