Ala. inmate who escaped with CO's help gets life sentence
Casey White was sentenced to life for his guilty plea to escape charges, related to his 11 days on the run with CO Vicky White
---
By William Thornton
al.com
FLORENCE, Ala. — Moments after telling the court he felt like "the most hated man in the world," Casey Cole White was sentenced to life in prison this afternoon for his guilty plea last month to escape charges, related to his 11 days on the run last year with jailer Vicky White.
Last month, White pleaded guilty to escape during a routine hearing on motions in anticipation for his trial on felony murder charges.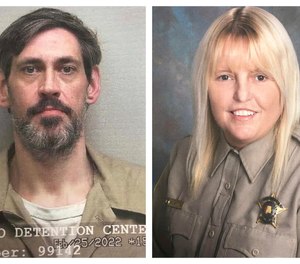 White entered his plea in exchange for the felony murder charge involving Vicky White being dropped.
WHNT is reporting that Casey White, addressing the court, apologized for the escape, saying Vicky White's only regret was leaving behind her family, he said.
"We just wanted a new life together because she knew the truth. I can handle the truth because I know who I am. I chose this road. It's cost me my life and freedom," White said.
Saying he "loved Vicky and I wouldn't drag her name through the mud for anyone in this courtroom," White said she was the first person to "give me a hug in six years."
White was also told to notify the state if he, his family or attorneys receives opportunities for books, movies or other financial opportunities, as any proceeds should be used to pay for his defense.
White, 39, had been charged with murder in the May 9, 2022 death of Vicky White, the jail officer who walked out with Casey White on April 29, 2022.
Vicky White, who was not related to Casey, took her own life with a gunshot to the head as Evansville, Ind. police were closing in on them following an 11-day manhunt, after Vicky helped Casey escape from the Lauderdale County Jail. Casey White, who reportedly was also injured by Vicky's fatal shot, faced murder charges because Vicky White's death occurred during the commission of a felony.
Casey White also faces a capital murder trial set for Aug. 14 for the 2015 slaying of Connie Ridgeway in Rogersville. When he escaped from jail, White was being held for the trial, then just weeks away. That trial was delayed in the aftermath of the escape and White retaining a new team of attorneys.
White is currently serving a 75-year sentence for convictions stemming from an array of 2015 charges, including attempted murder.
—
©2023 Advance Local Media LLC.
Visit al.com.
Distributed by Tribune Content Agency, LLC.
McClatchy-Tribune News Service