Courthouse shooting suspect remains jailed; bail at $300,000
William B. Wells, 24, is charged with murder in Monday's fatal shooting of Kendrick Armond Brown
---
By Jeff Amy
Associated Press
CANTON, Miss. — A man accused of fatally shooting a defendant outside a Mississippi courthouse remained jailed early Wednesday, a day after his bail was set at $300,000.
William B. Wells, 24, is charged with murder in Monday's fatal shooting of Kendrick Armond Brown outside the county courthouse in Canton.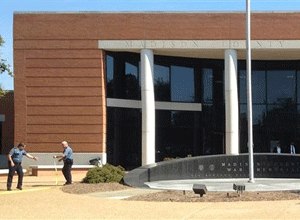 Officials are investigating whether Wells was retaliating for Saturday's shooting of his mother, Sherry Wells, who survived. She had been scheduled to testify against Brown. Indicted on felony cocaine charges, Brown could have faced up to life in prison under Mississippi's three strikes habitual offender law because of two earlier felony drug convictions.
Meanwhile, a prosecutor said he plans to further examine an earlier felony arrest for Wells.
Madison County District Attorney Michael Guest said he did not know about the June 28 arrest of Wells for aggravated assault until The Associated Press inquired about it Tuesday.
Wells was previously charged after a fistfight in which he fired a gun into the ground, Guest said.
Police had said Monday that Wells had never been in serious trouble. But Tuesday, Gwendolyn Miles, deputy court clerk in Canton's municipal court, confirmed the earlier charge. As a felony, it was sent to Madison County Circuit Court, she said.
In addition, municipal court documents show that Wells pleaded guilty July 1 to a misdemeanor charge of firing a gun inside city limits. That charge stemmed from the same fight, Guest said. Wells was sentenced to six months' unsupervised probation on the gun charge, paying $512.75 in fines and court costs. He was free on $50,000 bail on the assault charges, Miles said.
It was unclear whether either case or the conditions of his earlier bail should have prevented Wells from possessing a firearm. A semiautomatic handgun was used in Monday's shooting.
The AP found the charge after Wells told Madison County Justice Court Judge Mamie Chinn during his bail hearing that he had been convicted in a case in Canton.
Guest expressed surprise that there was no record of Wells being processed through the Madison County Jail on the assault charge. He said Canton police allowed Wells to post bail at the police station and described that as "extremely out of the ordinary on such a serious charge."
Canton police Chief Otha Brown did not return calls seeking comment.
Wells, a former Canton firefighter, told Chinn that he works for M-Tek, a company that makes interior trim for Nissan Motor Co.'s Canton assembly plant. He said he is engaged to be married.
Chinn described the murder charge in Monday's shooting as "serious" but agreed to set bail, warning Wells not to have any contact with others involved in the case. She said she was concerned for "the safety and security of all involved," considering the allegations of retaliation.
Wells' lawyer John Christopher did not object to the bond amount, saying it was "totally within the judge's discretion." He declined to comment on the allegations against Wells, saying he had just been hired as his lawyer.
Kentravious Brooks, who attended Tuesday's hearing, described himself as a close friend of Wells since childhood.
"I hate to see it," Brooks said. "He's a young cat, smart."
The 25-year-old Brooks said he would stand by Wells, but said he could understand the possibility that Wells might have been angered by his mother's shooting.
"To try to kill your mama, I mean...," Brooks said.