Inmate accused of trying to kill LEO files petition to get out of prison
John Kaleb Gillespie attempted to kill Alabama State Trooper Adam Marsh in November 2018 while trying to elude police after escaping from jail
---
By Eric Fleischauer
The Decatur Daily
MORGAN COUNTY, Ala. — A man who authorities said last year escaped from the Morgan County Jail using bedsheets and eluded police during a weeklong manhunt has embarked on a different strategy to free himself from prison walls.
John Kaleb Gillespie, 31, on Tuesday filed a petition seeking to overturn two 2008 guilty pleas for second-degree rape. He had been sentenced to five years in prison and 15 years probation for the crimes, but his probation was revoked in August 2019.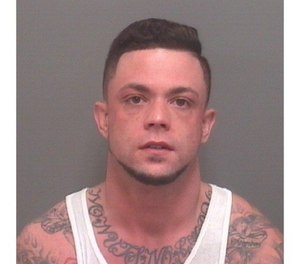 His petition, sent to Morgan County Circuit Court from Donaldson Correctional Facility, asserts that he agreed to the guilty pleas only because his cousin gave a statement to police at the time that Gillespie had sex with the underage girls, and that the cousin has since recanted those claims.
An affidavit from the cousin, Zachary Chet Lawrimore, is attached to Gillespie's motion.
In the affidavit, Lawrimore claims he was with Gillespie at the time he allegedly had sex with minors at Flint Park, but he did not witness the intercourse. He said he moved out of state after the incident to be with his child and the child's mother, and a Decatur police detective came to his workplace.
The detective "threatened to have my baby taken from me if I did not go along with what these girls' mothers were saying," Lawrimore wrote. "Young, dumb and naive, I felt I had no other choice because I had just been reunited with my family."
Lawrimore claims he was also angry at Gillespie at the time, "so I went along with the detective and signed a statement like I witnessed it and (I) didn't. I had no idea my cousin would get a crazy ridiculous charge and prison sentence of 20 years."
Gillespie argues his guilty pleas should be set aside because he agreed to them not because he committed the crimes, but because he decided Lawrimore's testimony would guarantee a conviction at trial.
"Petitioner entered into a best interest plea with the state of Alabama because he felt that if Lawrimore's word was sufficient to base criminal charges off of, petitioner would not stand a chance in a jury trial," wrote Gillespie, who is not represented by a lawyer.
Morgan County District Attorney Scott Anderson did not immediately respond to a request for comment Wednesday.
Petitions to overturn a guilty plea are rarely successful, and Gillespie's legal problems would not be over if this motion beats the odds.
Other charges
In Morgan County, Gillespie has been indicted for his escape from the jail, which came after his probation on the second-degree rape charges had been revoked and shortly after he received notice that he was being transferred from the jail to prison.
According to the indictment, filed in March, fellow jail inmate Zachary Chase Dial assisted him in the escape. Dial, who was already facing charges of first degree robbery, has been charged with two additional crimes during his time in Morgan County Jail. One was for possession of methamphetamine, the other for assisting Gillespie in the escape.
Shortly after the escape, the Morgan County Sheriff's Office said officers believed a fellow inmate boosted Gillespie up a 20- to 30-foot high wall in the recreation area of the jail on the afternoon of Oct. 27. Gillespie apparently had tied bedsheets together to drop down the outside of the wall.
In an appeal he filed of a disciplinary action at Donaldson Correctional Facility in Bessemer, Gillespie in January claimed he "was sexually harassed in my county jail and I feared for my life so I left from the trusty dorm and was charged with escape."
Gillespie also faces an attempted murder charge in Lawrence County.
According to the indictment, filed in January, Gillespie attempted to kill Alabama State Trooper Adam Marsh in November 2018 while trying to elude police.
In a criminal complaint signed three days after the incident, Marsh wrote that his marked patrol vehicle was incapacitated during the police chase.
"(Gillespie) did knowingly aim and drive his Tahoe toward me at a high rate of speed," Marsh wrote. "Had I not ran for my life he would have hit me with his vehicle. While I ran for safety he struck my patrol vehicle, T-boning my front passenger door with the rear of his vehicle."
Gillespie, who is a registered sex offender, also faces several charges that arose before his probation was revoked for violations of the Sex Offender Registration and Notification Act.
More than a week after his escape from the Morgan County Jail, Gillespie was spotted in his vehicle with a young woman in a Hoover hotel parking lot. He fled police in a high-speed chase until he wrecked, after which the pursuit continued on foot. He was finally found with the assistance of a police drone. He had a missing 16-year-old Moulton girl with him at the time of his capture.
———
©2020 The Decatur Daily (Decatur, Ala.)
McClatchy-Tribune News Service