Inmate gets 6.5 years in prison for assaulting corrections officer
Tyrell Dowdell fled from a contraband check down a hallway and slammed a heavy cell door on a CO's arm to keep him out of the cell
---
By Mary Catalfamo
The Citizen
AUBURN, N.Y. — Tyrell Dowdell finished a 12-year prison sentence on July 17, 2019. Almost exactly one year later, he was sentenced to serve 6.5 more years.
While an inmate at Auburn Correctional Facility on April 14, Dowdell fled from a contraband check down a hallway and slammed a heavy cell door on a correctional officer's arm to keep him out of the cell, according to a press release from the Cayuga County District Attorney's Office announcing Dowdell's conviction.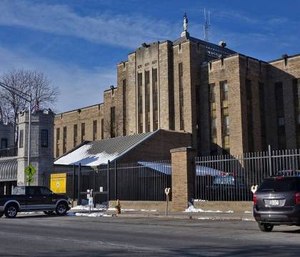 A contraband check performed afterward found him in possession of $20, which is contraband in prison, and a "slashing weapon concealed on his person," according to the release.
On Feb. 10, Judge Thomas Leone found Dowdell guilty of two felonies and one misdemeanor at the end of a six-hour bench trial prosecuted by Chief Assistant District Attorney Christopher Valdina. Dowdell faced a maximum of seven years in prison for the assault and 3.5 for the contraband.
The 34-year-old attended his sentencing Thursday morning via a Skype proceeding in Cayuga County Court. Dowdell, who has been incarcerated at the county jail, raised his concern over his previous conviction being categorized as a violent offense.
Dowdell said he believed his conviction of first-degree attempted robbery would not be classified on his record as a violent felony because he pleaded guilty to it.
He recently finished a 12-year prison sentence for a 2007 conviction out of Onondaga County that satisfied a second-degree murder charge.
Leone told him pleading guilty wouldn't change the degree of the felony. "I cant address what your attorney told you in 2007," he said. The judge also stressed Dowdell wouldn't get less than five years even if his prior felony was non-violent.
District Attorney Jon Budelmann said in his remarks he didn't want to rehash evidence presented at trial but described one piece of contraband as a scalpel-like weapon. He also noted Dowdell had several run-ins with the law as a gang member in Onondaga County, including eight arrests between in the early 2000s and a drug-related probation term.
Defense attorney Thomas Turturo said his client admitted to having $20 contraband but disputed a "narrow set of allegations" pertaining to the assault and possessing the weapon. He asked Leone to be lenient with sentencing.
In his statement, Dowdell reiterated that he didn't possess any contraband other than the money, but acknowledged he was found guilty and that he made mistakes throughout his life. "I have no choice but to learn from this incident," he said.
Leone sentenced Dowdell to 6.5 years in prison for second-degree assault with intent to physically injure, a class D felony, and three to six years in prison for first-degree possession of dangerous prison contraband, a class D felony.
The sentences will be served at the same time, so Dowdell will likely spend no less than 6.5 years in prison.
———
©2020 The Citizen, Auburn, N.Y.
McClatchy-Tribune News Service