Inmate who killed Iowa prison staffers gets two life sentences after families' emotional statements
Thomas Woodard Jr. appeared to have little or no reaction as 11 family members expressed their grief in court Thursday
---
By Trish Mehaffey
The Gazette
        
ANAMOSA, Iowa — Family members told heart-wrenching stories Thursday about their loved ones — correctional Officer Robert McFarland and registered nurse Lorena Schulte — while one of the Anamosa State Penitentiary inmates who killed them during a failed prison escape in March waited for his sentencing to be handed down.
Sara McFarland, Robert's wife, said she lost the "love of her life" — someone she should have been with forever, not only for their too-short 13 years of marriage.
She told Thomas Woodard, sentenced Thursday to two life sentences for bludgeoning McFarland and Schulte with hammers, that her husband was more than a correctional officer. He was an "amazing father, uncle, firefighter and husband."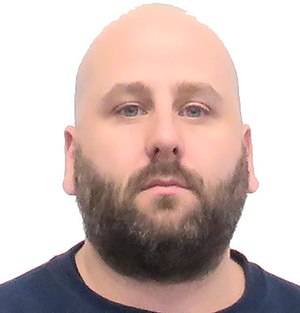 "He was my hero," Sara said. "You took my world. My heart. He made us feel incredibly safe. This is a horrible nightmare that I never wake up from."
Schulte's sister, Gretchen Dixon, said no words will be able to express how her sister's death impacted her family. It's a "bottomless void."
"She was supposed to grow old with...," Dixon said as she started to cry, stopping for a minute.
Dixon said the phone call she got in March with the news changed her life forever. Her heart raced and she couldn't catch her breath. Her children, who were close to their aunt, were in shock. Her other sister, Isabel Schulte, has a "broken heart."
Woodard, 34, declined to make a statement during the sentencing hearing. He appeared to have little or no reaction to the emotional family statements, but paid attention to each of the 11 family members who spoke.
The Jones County courtroom was packed with family members of all the victims. Co-workers of McFarland, Schulte and Mathes wore "Stronger Together" T-shirts, as they did at a plea hearing earlier this month.
Avoiding a trial, Woodard had pleaded guilty as charged to two counts of first-degree murder and one count each of attempted murder and second-degree kidnapping. Woodard, already serving time, for robbery, admitted he intentionally struck McFarland, 46, of Ely, at least twice to the back of his head and struck Schulte, 50, of Cedar Rapids, at least twice to her face and head on March 23.
Woodard made the rare straight-up pleading to all offenses charged on the condition he could serve his prison terms in Nebraska. Prosecutors said he would have been sent out of state to another prison regardless because he had killed Iowa correctional employees.
Sixth Judicial District Judge Fae Hoover sentenced Woodard to two life sentences and ran the other 50 years consecutively for the second-degree kidnapping of Lorie Mathes, a prison dental assistant, and the attempted murder of McKinley Roby, an inmate who tried to help the victims.
Hoover noted she didn't have discretion regarding the life sentences without parole but did on running the sentences consecutively or concurrently.
Hoover also ordered Woodard to pay $150,000 to the estates or heirs of McFarland and Schulte. Woodard also must pay $306 in restitution to Mathes and restitution of an amount not yet determined to Roby.
Inmate Michael Dutcher, 28, also charged in the fatal attack, has a bench trial set for Sept. 21 in Jones County District Court.
More victim statements
Schulte's parents, Stephanie and George Schulte, in a statement read by Stephanie, said their daughter, who was born in El Salvador, had to overcome so much when her biological father, worried about her safety, sent her to America to be adopted by the Schulte family.
She didn't speak English and had to learn a whole new culture. But that didn't stop her from continuing her education, her parents said in the statement. She took classes in criminal justice and then nursing, which wasn't easy to do because she also had a full-time job at a nursing home.
Isabel Schulte, Lorena's older sister, can't believe she's gone. She broke down crying when she talked about regrets of not being with Lorena — holding her hand — when she died.
Isabel called Woodard an "evil" man who deserved the death penalty.
McFarland's son, Casen, and his stepson, Colten Apfelback, in their statements talked about how their father was always there for them and how he had wanted to help the inmates at the state prison.
Cathie McFarland, Robert's mother, said she was "broken." She feels like her "body and soul are in a million pieces." The mother had to tell her two daughters and other son that "Bobby is gone." She couldn't bring herself to say he was killed.
"This is the worst nightmare a parent can go through," Cathy said. "My heart has been ripped from my body. I wanted to die. I asked God to take me instead of my son."
Kayleen LaPointe, Robert's sister, said she hopes Woodard remembers the pain and suffering he caused.
"Nothing will ever be the same again," she said.
David McFarland, Robert's brother, told Woodard that "you showed evil but my brother showed good. You never had a chance because good always triumphs over evil."
He asked reporters to not name the defendant in articles. The only names "that should be remembered are Robert McFarland and Lorena Schulte."
Lorie Mathes, in a statement read by another correctional employee, said she has never had to go through a tragedy like this. Her "mind is forever altered."
During the attack, she suffered broken ribs and injuries to her knee and leg.
Woodard also stole a part of her life that day. She said she wouldn't disclose the details of the deadly attack but said she doesn't believe he feels remorse.
Roby, in a statement read by a correctional officer, told Woodard he doesn't care what he had said at the earlier plea hearing because it didn't change the fact that "you killed two people. It's going to break you and hunt you down."

(c)2021 The Gazette (Cedar Rapids, Iowa)