Man dressed as 'Snoopy' tries to break into UK prison
Arrested after failing to break down door
---
Corrections1 Staff
ISLE OF WIGHT, U.K. — Prison wardens in the U.K. were baffled last Sunday when Snoopy, the character from the Peanuts cartoon, tried to break down a facility door while apparently waving a gun, the Daily Telegraph is reporting.
The man in the Snoopy suit and his accomplice (who was not in a costume) were attempting to free a relative from the prison - HMP Isle of Wight. It later emerged, however, that their relative was actually incarcerated at a different jail a few miles away.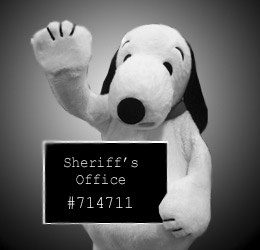 After failing to break down the door, the men decided to hurl concrete missiles at prison officers' cars, Metro.co.uk is reporting.
The two were quickly arrested on suspicion of criminal damage, and detained under the Mental Health Act.
A prison source told The Sun: "It's not every day you see a giant cartoon dog go on the rampage after trying to break into a prison. They weren't exactly inconspicuous but they were taken seriously because they appeared to have a gun.
"They caused a real commotion and it was only later they were found to be armed with a water pistol."
The source added: "This has got to rank as one of the worst attempted jail breaks ever."