St. Louis CO charged with false impersonation of a police officer
Jonathan A. Schoenakase pulled over a motorist who turned out to be an undercover police officer
---
By Kim Bell
St. Louis Post-Dispatch
ST. LOUIS — A St. Louis jail guard who had outfitted his car with a flashing red-and-blue strobe light in the front windshield recently pulled over a motorist who turned out to be an undercover police officer, authorities said.
The guard, Jonathan A. Schoenakase, is charged with false impersonation of a law enforcement officer, a misdemeanor.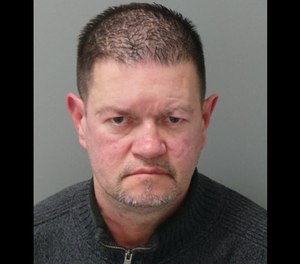 Schoenakase, 49, lives in the 1600 block of Pine Street in St. Louis. His bail is set at $3,000 cash.
City records show Schoenakase was hired as a correctional officer in November 2017.
He has a criminal history in Illinois, including for arson and also driving a taxi without a license. In the taxi case, he allegedly gave a ride to an undercover officer and took $20.
Jacob Long, a spokesman for Mayor Lyda Krewson, declined to comment Tuesday on Schoenakase's employment status, saying it was a "personnel matter." Long did say that a criminal record would not necessarily preclude a job as a jail guard. It would depend on the nature of the crime and how much time had elapsed since a conviction, he said.
Schoenakase's latest run-in with the law was in St. Louis on Thursday. A St. Louis police sergeant said in court papers that he was on covert patrol that day, heading east on Olive Street toward Grand Boulevard. The sergeant was on his way to join other detectives with an anti-crime task force.
The sergeant stopped at a red light and then went through the intersection. That's when a dark-colored car switched lanes and got behind the sergeant, court papers said.
A flashing red-and-blue LED strobe light was on the vehicle's windshield, just below the mirror, the sergeant said in court records. The sergeant pulled over and the vehicle slowed behind him and turned off the flashing lights.
But instead of stopping, the vehicle sped off. The sergeant got behind the vehicle and activated his car's emergency lights and siren and stopped the vehicle. The vehicle's front license plate said OFFICER and the rear plate said OFC JON1.
The driver said it was the first time he tried pulling over a motorist, the sergeant said.
Schoenakase was convicted of arson in 1989 in Adams County, Illinois. In 2014, he ran unsuccessfully for county clerk/recorder of Adams County. According to a short biography that ran in The Herald-Whig before that election, Schoenakase was also convicted of burglary and forgery charges in 1997 and served time in prison. Schoenakase received no support from the Democratic Party, the newspaper said.
"All I can say is I made mistakes in the past," Schoenakase told The Herald-Whig. "I was young, irresponsible. That was 20-some years ago. I can't change what happened in the past."
In 2010, he was living and working in Quincy when he was accused of giving people rides without having a taxi license. He apparently accepted a $20 bill from an undercover officer.
———
©2020 the St. Louis Post-Dispatch
McClatchy-Tribune News Service