Accused child molester escapee believed to be out of area
His brother has been arrested as an accessory
---
By C1 Staff
SAN JOSE — An inmate who injured a deputy during a hospital transport in order to escape is now believed to be out of the area, despite weeks of searching.
Mercury News reports that Johnell Lee Carter's brother, Joseph, has been arrested on suspicion of being an accessory after the fact in the escape of his sibling.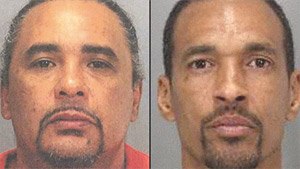 "The capture of Johnell Carter is a high priority for the sheriff's office," the Santa Clara County Sheriff's Office said in a statement.
Carter was to stand trial for allegations that he repeatedly sexually assaulted a young female over the course of two years. He also has a robbery conviction in San Joaquin County, and has criminal history in Santa Clara County including spousal battery, evading police, vandalism, and driving with a suspended license.
He's described as a black man standing 5'11", about 220 pounds, with a left-neck tattoo that reads "Amy." He has another tattoo on his upper left arm reading "Johnell Jr."
Authorities are offering a $6,000 reward for his capture. Anyone with information is encouraged to call the sheriff's office at 408-808-4500 or the anonymous tip line at 408-8080-4431.