Miss.'s lethal injection protocol stalls killer's execution
State's longest-serving death row inmate is suing over a drug cocktail he says could cause him great pain before he dies
---
By Margaret Baker
The Sun Herald
HARRISON COUNTY — The execution of Richard Gerald Jordan, Mississippi's longest-serving death row inmate, is being held up over a lawsuit he filed to stop the state from using a lethal cocktail he says is experimental and could cause him great pain before he dies.
Jordan exhausted all of his appeals before the U.S. Supreme Court at the end of June, paving the way for Attorney General Jim Hood to file for an execution date.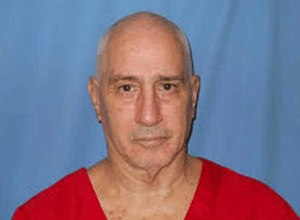 In other cases dating back to April 1989, the Attorney General's Office filed for an execution date within a day or two of making a final ruling in a case.
The Sun Herald reached out to Attorney General Jim Hood for explanation about the delay. Hood's office said Jordan's litigation has held it up because the Mississippi Department of Corrections "can no longer obtain (the anesthetic) pentobarbital and thus will have to obtain another drug in (its) place."
"That change has not been made as of yet and we have informed the federal court we will not request an execution date prior to that change," Hood's office said.
Officials at the Mississippi Department of Corrections did not wish to comment, citing the pending litigation.
The state adopted the latest lethal injection protocol in 2011 after manufacturers of the previous execution drug ceased its distribution to prisons in the United States because it did not want them used in executions.
Jordan's lawsuit challenging the state's current execution methods was filed by the Solange MacArthur Justice Center in New Orleans and requested an injunction to stop the use of the current methods for executions.
In the suit, lawyer Jim Craig said Mississippi is one of the last states in the nation to use a compounded form of pentobarbital before injecting a paralytic drug and potassium chloride to execute the condemned.
He questioned whether the state could mix a safe and effective form of pentobarbital as an anesthetic.
Even if they did, Craig said, it could act slower than the previous drugs used, resulting in the prisoner remaining conscious and aware they are suffocating when the paralytic drug is administered prior to potassium chloride to stop their hearts.
"....The untried and untested drugs ..." the suit says, results in a substantial risk for the condemned to face a "torturous death by life suffocation and cardiac arrest."
Jordan is seeking an injunction to stop the current lethal injection protocol because of his rights against cruel and unusual punishment.
That means little to the family of Edwina Marter, who have waited more than 38 years for closure to the case.
Family wants justice
"This has been going on for us far too long," said Mary Degruy, sister of Jordan's murder victim, Edwina Marter. "When is this going to happen? Nobody is calling us."
Edwina Marter was 37 years old when Jordan kidnapped and killed her in Harrison County on Jan. 11, 1976.
Marter still visits her sister's grave in New Orleans often, leaving flowers and maintaining its surrounding in honor of her memory.
"She was a very good-hearted and she loved her kids," Degruy said. "She did charity and they were well known in Mississippi. She would always come and stay with us for a week or two when the kids weren't in school. We did everything together when we could."
Marter and her husband, Charles, had been together for years at the time of her death and had two sons.
Charles Marter over the years has often spoke out about his wife's killing and the delay in justice, but now, in his 70s, his son, Eric Marter, said he no longer wants to discuss it.
Eric Marter said he was 11 years old at the time of his mother's murder.
"She was a stay-at-home mom and she took care of us," Eric Marter said. "She was always there for us. But ours wasn't a normal childhood with a mom and dad because of this."
As for Jordan, Eric Marter said, "he should have been executed a long time ago."
The murder
Edwina Marter was killed execution-style shortly after Jordan arrived in South Mississippi on Jan. 11, 1976, and spotted Gulf National Bank at U.S. 90 and U.S. 49 in Gulfport. He then called the bank and asked for the name of the senior commercial loan officer and was told it was Charles Marter, also vice-president of the bank.
Jordan went through a Gulfport city directory, which at that time listed occupations, to find Marter's home address.
When Jordan got to the home, he posed as an electrical repairman there to check the breaker boxes and Edwina Marter let him inside.
Jordan grabbed Marter while her 3-year-old son slept in a bedroom inside and forced her into a car to drive them to Desoto National Forest, where he let her out and killed her.
After the killing, Jordan called Charles Marter demanding a $25,000 ransom in exchange for his wife's safe return. He told him to wrap the ransom up in a brown paper bag and drop it off at a specified location on U.S. 49. Marter gathered up the money, but also alerted authorities.
Twice, Marter tried to deliver the ransom to Jordan, but Jordan saw law enforcement officers as Marter was making his way to the drop off point. Jordan left both times. Jordan contacted Marter again, this time telling him to leave the money under a jacket on Interstate 10 near the Canal Road exit.
Marter left the money, but neither he nor Jordan knew authorities were watching.
When Jordan picked up the money, authorities saw him and chased his vehicle, but Jordan eluded authorities, then drove to a discount pharmacy to buy new clothes before calling a taxi. Jordan was in a taxi when authorities arrested him in a roadblock.
Jordan confessed to the killing and directed authorities to Marter's remains. Her family said she'd been shot and tied to a tree.
"He took my sister away and we're still dealing with it," Degruy said. "I think he's been living long enough. It's not fair to us. You know, you don't like people to die, but he deserves it."