Nev. appealing killer's twice-delayed execution
Officials are seeking to overrule a delay of the execution after a drug company opposed the use of its product
---
By Ken Ritter
Associated Press
LAS VEGAS — Nevada prison officials appealed Wednesday to the state Supreme Court, seeking to overrule a delay of the state's first execution in 12 years after a drug company opposed the use of its product.
The 64-page filing asks the court to lift what state attorneys call "an unprecedented temporary restraining order" that they say "put the interests of Big Pharma over the interests of Nevada's capital murder victims."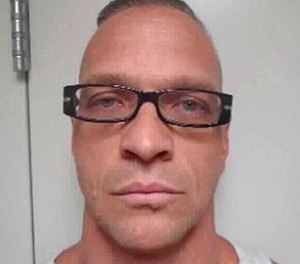 Nevada Department of Corrections spokeswoman Brooke Santina had no immediate information about the appeal filed by state Attorney General Adam Laxalt's office.
The filing came two weeks after twice-convicted killer Scott Raymond Dozier's lethal injection was postponed for a second time after a lawsuit was filed by New Jersey-based Alvogen opposing the use of its sedative midazolam. That delay occurred six hours before Dozier was scheduled to die in Ely State Prison.
Dozier, 47, has said repeatedly he wants to die, and he is not appealing his convictions for separate killings of drug trade associates in Phoenix and Las Vegas in 2002. A Nevada jury decided in 2007 that he should die.
Prison officials in Nevada plan to be the first to use high doses of fentanyl, a potent synthetic opioid blamed for overdose deaths nationwide, in their three-drug execution protocol.
It would be followed by a muscle paralyzing drug, called cisatracurium, which prompted a judge last November to call off Dozier's execution amid concerns that he could be so immobilized that witnesses would not see if he experienced unconstitutional pain or struggled not to suffocate.
The state's high court in May overruled a different Las Vegas judge's decision to postpone the execution over questions about cisatracurium.
Midazolam is the first drug in the protocol, which is now the focus of the legal battle.
Clark County District Court Judge Elizabeth Gonzalez has a September date to begin hearing the pharmaceutical company's allegation that Nevada prison officials illegally obtained midazolam to substitute for expired stocks of another sedative that had been slated for use in November.
Nevada, which has not executed an inmate since 2006, is among death penalty states that have had trouble in recent years obtaining lethal injection supplies from companies that don't want their products used for executions.
The appeal did not immediately seek an expedited hearing in the case, although such a request can be made separately, court spokesman Michael Sommermeyer said.
Death-penalty watchers have pointed to inconsistent results with midazolam since it was used in the 2014 executions of Dennis McGuire in Ohio and Joseph Rudolph Wood III in Arizona. Both were observed gasping and snorting before they died, and Wood's execution took nearly two hours. Midazolam has also been used in Alabama, Arkansas and Florida.