Supreme Court won't review case of Ala. woman awaiting execution for torturing, killing 2 children
Investigators believe Heather Leavell-Keaton and her boyfriend physically abused the children for years, locked them in closets and gave them little food
---
By Ivana Hrynkiw
al.com
WETUMPKA, Ala. — The nation's highest court won't review the case of an Alabama woman awaiting execution for killing two children over a decade ago.
Heather Leavell-Keaton, 35, is on death row at Julia Tutwiler Prison in Wetumpka. She has been there for the past seven years after being convicted of capital murder in 2015.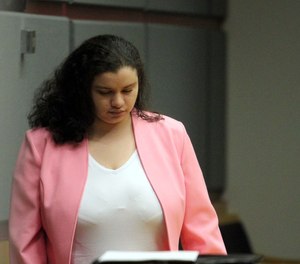 Leavell-Keaton was the first woman in Mobile County history to be sent to Alabama Death Row.
She and her boyfriend John DeBlase, were convicted of torturing and killing his two children, four-year-old Natalie and three-year-old Chase, in 2010.
Her case has spent years in the courts.
In 2020, the Alabama Court of Criminal Appeals ruled that Leavell-Keaton didn't have the opportunity to address the court before her 2015 sentencing.
The appeals court sent the case back to Mobile County for a resentencing hearing and in January 2021, she was again sent to death row.
After a back-and-forth court battle, the Alabama Court of Criminal Appeals affirmed Leavell-Keaton's conviction and death sentence, and in 2022 the Alabama Supreme Court decided not to review the case.
Through her lawyers at the Southern Center for Human Rights, Leavell-Keaton then appealed to the U.S. Supreme Court.
In her appeal to the high court, Leavell-Keaton's lawyers argue that mitigating evidence wasn't properly weighed at her resentencing hearing.
"Despite being faced with the decision of whether to sentence Ms. Leavell-Keaton to death or life without parole, the trial court refused to consider any of Ms. Leavell-Keaton's proffered mitigating evidence about her 'well-behaved and peaceful adjustment to life in prison.' ... Instead, the court accepted the District Attorney's argument that 'it is irrelevant if she has been a good girl in prison from that point to this point.' As a result, more than five years of substantial mitigation that was 'by its nature relevant to the sentencing determination' was excluded from the court's capital sentencing decision," her lawyers wrote.
"Preventing Ms. Leavell-Keaton from presenting mitigating evidence about her time in prison, in furtherance of her argument that the judge, at his discretion, should impose a sentence of life without parole, underscores the significance of the error in this case," said the filing.
Leavell-Keaton was convicted of capital murder for the slaying of Jonathan "Chase" DeBlase, and reckless manslaughter for the death of the little boy's sister, Natalie DeBlase.
The children's remains were found across wooded areas in both Alabama and Mississippi. Court records show Natalie died in March 2010 when she was 4, and Chase died in June 2010 when he was 3.
According to court records, investigators believed DeBlase and Leavell-Keaton physically abused the children for years, locked them in closets and gave them little food.
"At both DeBlase's trial and Keaton's trial, there was evidence indicating that the children could have died from asphyxiation at the hands of DeBlase or could have died from consuming antifreeze that Keaton fed them," said a 2021 order from the Alabama Court of Criminal Appeals.
Court records state that while couple could have killed the children by poisoning them with antifreeze, a medical examiner who testified at Leavell-Keaton's trial said there could not be an "unequivocal determination regarding the cause or causes of the children's deaths."
That doctor testified that there were likely multiple factors in the deaths, "including 'poisoning, dehydration, starvation, asphyxia... and it could be a combination of one or more of those things.' When asked specifically if the cause of death 'could have been poisoning with antifreeze,'(the doctor) testified that '[i]t could have been' but that she could not conclusively make such a determination from the autopsies."
Police found a bottle of antifreeze during a search of DeBlase's van, court records show.
A forensic anthropologist, who examined the remains, said "malnutrition, starvation, poisoning, [or] even psychological stress" could have caused the children's' deaths, according to the appeals court's ruling.
The couple was charged with the killings in 2012. John DeBlase was convicted in 2014 and also sentenced to death, and remains on death row at William C. Holman Correctional Facility in Atmore.
In her filing to the U.S. Supreme Court, Leavell-Keaton's attorneys describe her as blind. An earlier order from the Alabama appeal's court said she has "severely impaired" vision.
—
©2023 Advance Local Media LLC.
Visit al.com.
Distributed by Tribune Content Agency, LLC.
McClatchy-Tribune News Service