How to build your retirement from corrections
If you look at retirement like a standard four-sided foundation, it features four cornerstones: activity, financial, physical and emotional
---
Goodbye, prison. I'll be going now. It was truly a unique experience working here.
As I write this, I am 15 weeks away from my last day of work in corrections. I remember my very first day inside as if it were yesterday. The 25 years following have evaporated like ice cubes on the sidewalk in mid-summer.
Reactions to retirement vary and are quite individual. Retirement scares some while it excites others. I have had both of those emotions and many more as I ponder my post-corrections future.
For many months, I have revisited the topic of retiring from the profession. What follows is a blend of introspection and advice from colleagues and loved ones. Conventional wisdom about retirement is also featured. As a disclaimer, I am not a life coach. Quite simply, these are my opinions.
I believe that planning a retirement is like building a foundation for a dwelling. If we suppose that retirement is like a standard four-sided foundation, it would feature four cornerstones: activity, financial, physical and emotional.
It is better to have a well-conceived foundation so that all that is built upon it later is stable. This can be done by asking questions about each cornerstone.
Activity Cornerstone
The activities cornerstone is all about how time will be spent.
Will you work at another job when you retire?
Do you have hobbies? If not, have you made a list of things you would like to do?
Must you conduct activities that you find meaningful or are you content with anything to keep active? For example, are you comfortable with digging a hole and filling it the next day just to stay busy, or does the activity need a deeper reason than just finishing a task?
Will you try new things?
Financial Cornerstone
The financial cornerstone is about how you will pay for your post-corrections existence.
Have you attended retirement seminars?
Have you conducted a thorough and realistic financial self-assessment?
Did you assess your financial needs by looking ahead?
Are you the kind of person who is driven by purchasing new items?
Do you have contingency plans?
How long can you tighten your belt?
Will you need a part-time job?
Physical Cornerstone
The physical cornerstone forces you to answer some tough questions about your personal health.
How is the overall state of your current health?
Have you sought a physician's assessment?
Do you have a plan for diet and exercise?
How does your family history look in terms of health?
Do you possess willpower and fortitude?
Have you honestly looked at your healthy and unhealthy influences?
Emotional Cornerstone
The emotional cornerstone requires you to look inward to assess your emotional health.
Will you miss the rush, stress and adrenaline of corrections?
Do you have de-stressing tactics?
How much of your identity is intertwined with your job in corrections?
How can you substitute feelings of accomplishment that you may have felt while on the job?
How everything connects
The four cornerstones are not merely sequential. That is to say, it is not a simple conceptual walk around the structure, looking at each cornerstone one at a time. The cornerstones interconnect and buttress one another (see Figure 1).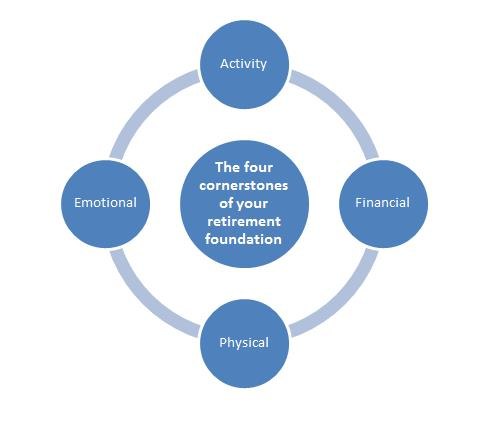 For example, if you are inactive you may become depressed. Thus the activities cornerstone may impact the emotional cornerstone. If you are financially insolvent, you may not be able to engage in activities.
Here are some of my thoughts on how to plan for retirement from corrections:
Start planning early.
Ask questions.
Attend seminars.
Know yourself.
Change plans as needed. You need not be locked into details that seemed to work early in the planning.
Be realistic.
Twenty-five years serving as a corrections professional involves a lot of work with plenty of stress. I think it is enough time in the field. But it is something I do not regret. I will eventually see how well my retirement planning fits my needs.
I also acknowledge that retirement is a very personal decision. And you, dear reader, may embrace the advice, sample parts, or reject it as a whole. Whatever your course of action, as a fellow corrections professional, I wish you the best in retirement. You have earned it. May your last foundation be sturdy and work for you.