Death row officer reflects on nearly three decades working at San Quentin
Mike Begley is a rare breed, a correctional officer who has spent most of his career working on death row at San Quentin State Prison
---
By Don Chaddock and Lt. Sam Robinson
Reprinted with permission from Inside CDCR.
In 2002, CDCR published a "Day in the Life" story featuring Correctional Officer Mike Begley as he worked on death row. At the time, the story won State Information Officers Council awards for photography and feature writing. In January 2017, Inside CDCR caught up with Officer Begley, who still works on death row, to discuss what has changed during his nearly three decades working at San Quentin State Prison.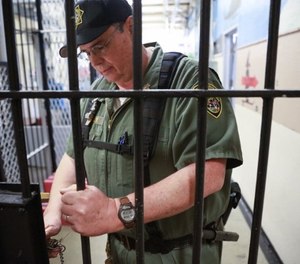 San Quentin Correctional Officer Mike Begley is quick with a smile and a firm handshake. He has worked at California's oldest prison since 1989. For all but two years of his 28-year career, his workplace has been death row.
"I've worked on death row off and on since 1991," he recalled. "I worked nine years in East Block and I don't know how many years in here."
Nowadays he is a security and escort officer for North Seg, which houses 68 inmates.
"It's kind of like an honor block for condemned inmates," he said.
Most of those who worked for years on death row have since retired or moved on to other posts at the prison. Officer Begley is a rare breed, an officer who has spent most of his career on what he calls "the row."
"There are a lot of new people here at San Quentin. I walk out and don't recognize anybody. That's a big change. In the last few years, a lot of people have retired. Makes me wonder what I'm still doing here," he said, cracking a smile. "I'm planning to retire next year."
How have things changed at the prison since you started?
The prison has gone from a custody side more to an emphasis on the medical. That is the biggest change. Also, we went from Level IV to reception.
How has death row changed over the years?
It's gotten a lot bigger and we now get a different type of inmate. They are younger guys, too, coming in. There are many different programs (for inmates) now. Before, everything was contained to East Block for condemned inmates back then. You didn't really take them out for anything else.
What is a typical day like for you in North Seg?
We come up here in the morning and do an exchange with First Watch. We do our feeding and a security check to make sure everyone is OK. We typically do our cell searches after that. We have nurses come in and start giving medications. Then we start escorting inmates to visits. They have attorney visits and contact visits. Then we run our yards out. Then we'd have medical clinics and run our escorts for many different reasons.
What is your most memorable moment?
The most memorable was the (level of public interest in the) execution of Robert Alton Harris in 1992 (the first California execution in 25 years). I was fairly new. There was a lot of media and I had never seen anything like that. Of course, the prison hadn't seen anything like that for many years either.
What is the most fulfilling aspect of your job?
Probably the different people and different cultures here. San Quentin is very diverse. It doesn't matter where you're from, people get along here. Most everybody you work with, you get along with.
What common misconceptions do you think people might have about your job?
The biggest thing for people on the outside is they just don't understand. It's like a city within the prison. We have a police department and fire department in the prison, you know. This is an important job and out on the street there is such a misconception about the job. You have to take this job seriously. You have to care about what you do.
What advice do you have for new staff?
I would tell new COs, you can be a tough guy if you want to be, but it's going to make for a very long, difficult career. You have to be yourself. Also, you have to treat these guys like they're people, regardless of what they did. Your job is to keep them safe. If you're going to say you're going to do something, do it. Keep your word.
How do you keep your perspective when working in a prison?
We see a lot of pretty heinous things in our career. People try to manipulate you every day. The longer you are here, the more you learn how to adapt to it and learn. You work your way up. This is a good place to work up here (in North Seg). I've known some of these people my whole career.
How has technology changed in the prison over the years?
Everything is on computer now. Writing reports have been a challenge, personally. A lot of younger guys come in here and it's no problem for them. It's what they know.
How common is it for an officer to work so long on death row?
It used to be very common for people to work most of their career on the row. A lot of people who were here for a long time left when they started all the programming (for condemned inmates). It just got too hectic for them.
What would you like the general public to know?
People who work here, correctional officers and free staff, are here to support our families. We aren't a bunch of knuckle-dragging Neanderthals.
---
Don Chaddock is editor of Inside CDCR, the California Department of Corrections and Rehabilitation Newsletter.
Lt. Sam Robinson is AA/Public Information Officer at San Quentin State Prison.