Scenario-based training tests Ariz. correctional officers, K-9s
The dogs train for emergency calls, contraband detection and locating escaped inmates among other security measures at the prisons
---
By Loretta Yerian, Editor of Williams-Grand Canyon News
Reprinted with permission from Williams-Grand Canyon News.
Around 100 correctional officers, K-9 handlers and instructors descended on northern Arizona in September for annual dog handler training with Arizona's Department of Corrections (DOC) K-9 units, tactical team and chase teams.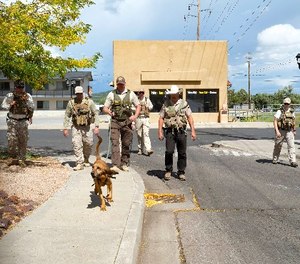 Approximately 80 students and 20 trainers conducted scenario training with bloodhounds in Williams, Arizona. Teams of eight to 10 people went through a series of morning and afternoon trainings that included robberies, search and rescue, and lost child scenarios.
According to Officer Steve Lowe with Arizona DOC, the department has multiple K-9 units stationed at prison complexes statewide. The dogs train for emergency calls, contraband detection and locating escaped inmates among other security measures at the prisons.
"We've got 10 prisons throughout the state and each prison has its own team," Lowe said. "One time a year we able to get together and put them through scenario-based training like this."
Lowe said the program has around 40 bloodhounds and is one of the only a few law enforcement agencies using bloodhounds.
According to Lowe, DOC has its own breeding program and trains the hounds when they are between 8 to 10 weeks old.
"For long-distance scent work for bloodhounds, that's what their whole life is about," said Lowe.
Additionally, K-9 units work with tactical and chase teams in law enforcement to locate missing people and make captures.
"These are our special teams that go looking for escaped inmates and missing people," Lowe said
Training locations, scenarios change each year
Training locations move each year to keep dogs, their handlers, and chase and tactical teams sharp. This is the second time in 10 years DOC conducted training in Williams.
"We try to move it so we don't overuse an area. We don't want the guys getting familiar and knowing all the ditches and things," said Lowe. "Handlers are doing training every week but only a couple times a year we get to do anything big like this."
Training lasts one week and includes training in Bellemont at Camp Navajo Army Depot. Lowe said DOC chose Camp Navajo because it is low-cost for them to use the facilities.
Officer Kevin Davis and his bloodhound, Holly, worked a missing person scenario in Williams on September 14. Davis works at Winslow prison and has been with the K-9 unit for nearly four years.
He said he has worked with other K-9 units in the past including with bite dogs and narcotic dogs. He has also worked as a decoy for other handlers and in the prison yard.
"I kind of worked my way into it," said Davis. "I've also worked with the chase teams."
Davis and Holly have worked together for around one year.
"You are always learning as a K-9 handler. You're always progressing because you're trying to get the dogs to progress," he said.
While working with the K-9 units is a secondary duty for chase and tactical teams, this is Davis's full-time job.
"I've liked it. It's the hardest job I've had, but it's also the most rewarding," he said.
During the training, Davis said there were a few things Holly needed to work on, but overall she did a good job.
"This gives her different things to work on. They're always learning, you're always learning," he said.
How to start a K-9 unit in a correctional facility
Before procuring a trained K-9 for your correctional facility, address the following areas:
Policy: Develop a sound policy that accounts for all liability issues. This provides for the safety of staff, inmates, members of the public and the dog.
Handler: Pre-screen a qualified and responsible handler.
Training area: Secure a facility (e.g., an onsite trailer) where training can take place.
Vet: Choose a vet who has specific medical knowledge about working dogs; also, the vet must be prepared to handle emergencies 24-7.
Housing: Decide ahead of time where dogs will be housed and develop a care plan. Working dogs are loveable animals, but they are not your average pet and require an unusually high level of care and vigilance.

For more information, see How to start a K-9 unit in a correctional facility.