Race will honor slain Pa. correctional officer
Twenty of the nation's federal prisons are hosting races at 13 sites across the United States, each vying for the $5,000 grand prize to be awarded in memory of Eric Williams
---
By Bob Kalinowski
The Citizens' Voice
NANTICOKE — The family of slain Correctional Officer Eric Williams likes to joke they are offering fellow law enforcement officers around the nation a chance at an all-expense paid trip to Nanticoke next month.
That's the top prize for the winner of Saturday's inaugural Eric Williams Race for Justice.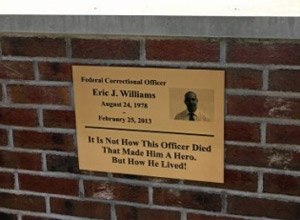 That, and $5,000 scholarship money to be awarded to the winning team.
"I was laughing. How would you like to be from California and win a free trip to Northeastern Pennsylvania?" Williams' father, Don, said recently. "It's for a good cause. I'm sure people from out of town will love it here."
Twenty of the nation's federal prisons are hosting races at 13 sites across the United States, each vying for the $5,000 grand prize to be awarded in memory of Eric Williams, a correctional officer from Nanticoke murdered by an inmate in February 2013 while working at United States Penitentiary at Canaan.
The Williams family, through a memorial scholarship fund set up for the fallen officer, plans to pay for the winning team to travel to Nanticoke on June 6 to receive the money during a ceremony at the Walk of Honor at Luzerne County Community College. The memorial grounds at the college include a plaque in honor of Eric Williams.
"I'm anxious to see which team nationally is going to win. We got some people in Texas who are really excited about this and telling us it's going to be them," Don Williams said. "They're really gung ho."
Six regional winners each be awarded $1,000 in scholarship money, which the Williams family hopes will go toward a school with courses in law enforcement.
Anyone can run in the race — individually or as part of a team — but only teams comprised entirely of law enforcement are eligible to win the scholarship money.
For the race's purposes, law enforcement is broadly defined — from all correctional officers and cops to probation officials and loss prevention officers.
In his life, Eric Williams served in three of those professions — as a loss prevention officer, as a cop and finally as a correctional officer at USP Canaan, one of the most notoriously dangerous prisons in the federal system.
Arizona mob assassin and convicted killer Jesse Con-ui is charged with ambushing Eric Williams, 34, at nightly lockdown and then stabbing him nearly 200 times. Con-ui is awaiting trial and prosecutors — at the insistence of the Williams family — are seeking the death penalty. At the time, Eric Williams was only armed with keys, handcuffs and a radio, in charge of monitoring more than 120 inmates by himself.
"I'm doing this for two reasons," Don Williams said. "This gives me a certain way of remembering my son. It gives meaning and value to his life, besides just being killed. The other thing is, we're using this event to call attention to the problem with prison safety. I want to raise public awareness that there are severe problems that need to be addressed."
The race hosted by Eric Williams' colleagues at USP Canaan begins at 9 a.m. Saturday at Luzerne County Community College. Registration begins at 7:30 a.m. in the colleges gymnasium, where a DJ is scheduled to play and basket raffles will be available.
Jeremy Dominick, the union vice president at USP Canaan, is hoping for a huge turnout Saturday of law enforcement and supporters of those who work to uphold law and order each day despite the dangers of the job.
Dominick knew Eric Williams from high school, having graduated a few years after him at Greater Nanticoke Area.
"It's horrible someone had to pay the ultimate sacrifice, but it hits closer to home because he's from my same high school and same town," Dominick said.
Dominick said a large turnout for the event in Eric Williams' hometown will help spread their message about the dangers of the job.
"It's about awareness and knowledge about what goes on inside a prison," Dominick said. "It needs to be heard."
Workers at Federal Correctional Institution Schuylkill are hosting a race in Pottsville, followed by a community picnic to celebrate law enforcement.
Danielle Boris, a unit secretary at FCI Schuylkill, said people in that region are really rallying around the event in Eric Williams' name.
Pennsylvania Attorney General Kathleen Kane headlines a large group of elected officials in the region taking part in the day's festivities, she said.
race
from page 4
"I'm looking forward to some networking with all the law enforcement agencies participating," Boris said. "That's what the goal is — having everyone come together, know why we're there, remember the sacrifices, but also have a good time and — I don't want to say forget what you do at work — but relax for a bit."
Federal prisons from as far away at San Pedro, California, are participating in the race.
The race committee recently obtained a letter from U.S. Sen. John Cornyn, R-Texas, after he heard of the efforts of the prisons in Texas. He addressed it to race day participants.
"I applaud all of the relay's participants for donating their time to this important cause. I have no doubt that your presence here today will play an important role in emphasizing safer law enforcement, prison safety, and helping the Eric Williams Scholarship Fund," Cornyn said.
A federal prison in New York City has several teams running in the Eric Williams Race for Justice. Members of the Metropolitan Correctional Center New York plan to run across the Brooklyn Bridge in Eric Williams' honor.
"We're going to run from Manhattan to Brooklyn and then from Brooklyn back to Manhattan," said Tyrone Covington, president of the prison's union, AFGE Local 3148.
Their race is being held May 22 due to prior commitments.
Taking part in the race is a way to lend support to fellow prison workers, Covington said.
"When I look at Eric Williams, I think this could happen to any of our members," he said.
Covington, 37, is on one of the race teams. He didn't seem too hopeful he'd be on the team coming to Nanticoke next month to collect $5,000 in scholarship money.
"It's not necessarily a run for winning," he said. "It's a run for support."