60 shanks, 100 cellphones, drugs, gallons of beer turn up in massive search of La. prison
Prison staff teamed up with 130 officers and 12 K9 teams from across the state to conduct the top-down sweep
---
By Ellyn Couvillion
The Advocate
        
ST. GABRIEL, La. — Sixty shanks, 100 cellphones, 29 lighters, gallons of beer and a sizable stash of drugs turned up in a massive search of Elayn Hunt Correctional Center Thursday, officials said.
The St. Gabriel prison's staff teamed up with 130 officers from across the state to conduct the top-down sweep, which began at 3:45 a.m. and uncovered hoards of contraband smuggled into the prison, the Louisiana Department of Public Safety and Corrections said in a news release.
To wit: "(20.55) ounces of marijuana, 5.45 ounces of synthetic marijuana, 6.75 ounces of crystal meth, 0.6 ounces of ecstasy pills, 38 suboxone strips, 23 sheets of synthetic paper marijuana, 77 assorted pills, four packs of rolling papers, three packs of cigars, two scales, 60 homemade weapons (shanks), 100 cellphones, 60 cellphone chargers, three sim cards, 29 cigarette lighters and three gallons of homemade beer."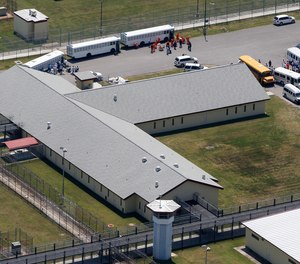 Prison officials say they also drug-tested about 200 inmates.
LDPSC Secretary Jimmy Le Blanc applauded the effort and "employees at all of our institutions for what they are doing to fight the smuggling."
"We are making progress in our fight to rid our state prisons of contraband, but we must stay the course, and continue our aggressive efforts," he continued. "Contraband puts our staff and offenders at risk."
In addition to the correctional, probation and parole officers from across the state, 12 dog teams from various prisons joined the shakedown.
Le Blanc said an investigation is underway and that LDPSC will pursue charges and disciplinary measures against prisoners and any others who may be involved in the contraband smuggling.
     
(c)2021 The Advocate, Baton Rouge, La.
McClatchy-Tribune News Service