Charges dropped against Okla. man accused of flying drone into state penitentiary
Man was accused of kidnapping, conspiracy, and attempting to fly in contraband
---
By Graham Lee Brewer
The Oklahoman
McALESTER, Okla. — Charges have been dropped against a man accused of flying a drone carrying drugs, weapons and cellphones into the Oklahoma State Penitentiary, the man's attorney said. 
"Our contention is at best it is a case of mistaken identity," said Mark Heidenreiter, a Tulsa-based attorney representing Marquis Gilkey.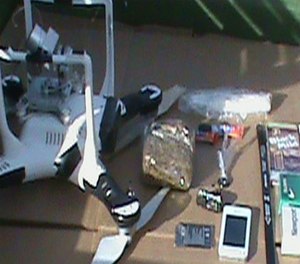 Gilkey, 30, of Tulsa, was arrested and charged on Nov. 4 with attempting to bring contraband into a penal institution, kidnapping, conspiracy and a gang-related offense. 
An unidentified woman told investigators that in October Gilkey kidnapped her and forced her to participate in a gang-related plot to smuggle contraband into the maximum security facility. She said Gilkey forced her to learn how to operate the drone, and in the middle of the night the pair attempted to fly it over the prison walls from the backyard of a nearby home. 
The drone was caught on the fence's razor wire, and correctional officers found it the next morning. 
Prosecutors alleged Gilkey and an inmate at the penitentiary, Clifton D. Wilson, 43, worked together to smuggle the illegal items and that both are members of the street gang 107 Hoover Crips. Wilson, a high-ranking gang member, is serving more than 30 years on robbery and drug convictions out of Grady and Caddo counties, records show.  
"My client had nothing to do with this but was named by someone who was caught with part of the apparatus of the drone," Heidenreiter said.
Prosecutors are still waiting for the Oklahoma State Bureau of Investigation to process forensic evidence, wrote Adam Scharn, an assistant district attorney in Pittsburg County, in a Thursday court filing dismissing the charges. 
Scharn told The Oklahoman his office is waiting for processing of fingerprints on the drone, among other things, but a backlog of evidence that needs processing has hampered the OSBI. Currently, the only evidence tying Gilkey to the crime is the unidentified woman, Scharn said.
Scharn said his office is investigating possible charges against other people both in and outside the prison's walls, but he declined to comment specifically on the woman investigators first tied to the drone.
Charges had to be filed quickly in the case because of Gilkey's past gang affiliations and criminal background, Scharn said.
"One of the reasons charges were filed quickly after they identified that suspect, Marquis Gilkey, is because he is a known gang member in Tulsa with the 107 Hoovers," Scharn said.
"With that kind of criminal history and ties to a gang, we didn't want to risk him getting wind of it before we had a warrant and disappearing on us."
Investigators were led to the woman by a photo taken from the drone's memory card. She admitted to investigators she purchased the drone and tried to fly it into the prison, but only because Gilkey forced her to do so.  
Scharn said he is confident Gilkey was connected to the incident and will face new charges in the future.
"While it's not a decision we take lightly, especially with charges against a gang member with a violent past, it was in the best interest of justice and the integrity of our case moving forward," he said. 
At the time, it was the first reported instance of a drone being used to bring illegal items into an Oklahoma prison, Corrections Department officials said. In March, a drone carrying cellphones was captured shortly after landing inside the Cimarron Correctional Facility, a private prison in Cushing. No arrests have been made in that case. 
Alex Gerszewski, spokesman for the Oklahoma Department of Corrections, said officials were made aware the charges had been dropped but had no further information on the case. He said their inspector general's office is still investigating the incident in Cushing.
Heidenreiter said his client is considering legal action in response to his arrest. 
"He spent, I believe, a couple months in jail because he couldn't make his bond," he said. "He lost a job and he's been having problems finding another job because they look him up and see a serious pending felony. Just your freedom being taken away from you is obviously a big deal."
Heidenreiter said to his knowledge the unidentified woman who admitted to flying the drone has not been arrested. 
Copyright 2016 The Oklahoman