Man freed in Ala. mass prison release among 3 accused of smuggling drugs into prison
The three were trying to deliver fentanyl, meth, crack cocaine and marijuana to the Limestone Correctional Facility
---
By Carol Robinson
al.com
BIRMINGHAM, Ala. — Three people have been arrested for reportedly trying to smuggle illegal drugs into an Alabama prison, including a former inmate who was just released weeks ago.
On Feb. 10, Emmanuel Jamal Olds, 19, of Birmingham, and Javonte Simons, 19, of Cordova, were arrested on charges of trespassing and promoting prison contraband, according to ADOC spokeswoman Kelly Betts.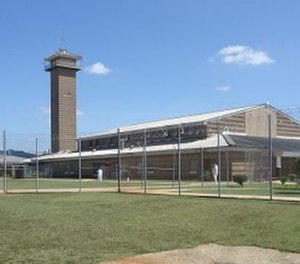 Charging documents against Olds and Simons allege they were trying to deliver fentanyl, methamphetamine, crack cocaine and marijuana to the Limestone Correctional Facility.
Olds and Simons told investigators that a man driving a Cadillac Escalade dropped them off at the prison.
ADOC's Law Enforcement Services Division contacted the Limestone County Sheriff's Office for assistance, and they were able to stop the vehicle. Paul Alan Brown, 27, who lists a Sumiton address, was taken into custody.
Brown, 27, was released from state prison Jan. 31 — one of several hundred state inmates released from prisons and work release centers across Alabama as the state's "mandatory supervision period on certain sentences" law went into effect.
Brown had been in prison on Jefferson County convictions of receiving stolen property, theft and burglary. His sentence was set to be complete on April 1.
Brown is now charged with six counts of promoting prison contraband, one count of criminal trespassing and drug possessing.
Charging documents against Brown state he tossed a cell phone over the prison fence and was in possession of four ounces of fentanyl.
[RELATED: Police: Man freed in Ala. mass prison release rearrested after meeting parole officer with drugs]
The complaint also alleges that Brown had a makeshift knife in prison on Jan. 5. It wasn't immediately known whether prison officials discovered that knife before or after his Jan. 31 release.
He, Olds and Simons are now being held in the Limestone County Jail.
"These arrests are indicative of the good working relationship between the ADOC and local law enforcement,'' Betts said in a news release.
"The staff of ADOC works hard to strike the delicate balance of public safety, security of staff and inmates, and enforcement of the law."
NEXT: Ala. releasing 200 more inmates after 134 already freed
©2023 Advance Local Media LLC.
Visit al.com.
Distributed by Tribune Content Agency, LLC.
McClatchy-Tribune News Service