Mich. prisons bar lipstick kisses on mail, homemade cards
The rules going into effect Oct. 1 also require mail to be written in blue or black ink or lead pencil
---
Associated Press
LANSING, Mich. — New rules at the Michigan Department of Corrections ban inmates from receiving mail with homemade greeting cards, perfume or lipstick kisses.
The rules going into effect Oct. 1 also require mail to be written in blue or black ink or lead pencil. The policy also forbid stickers, including address labels.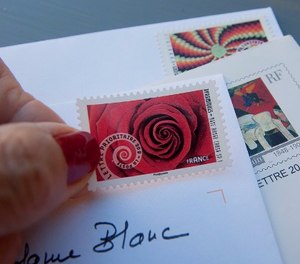 Department spokeswoman Holly Kramer tells the Detroit Free Press the rules are aimed at banning contraband from entering prisons. She says drugs can be circulated in thin strips and concealed under a sticker or other items.
Doug Tjapkes is president of Humanity for Prisoners in Grand Haven. He says inmates and their families oppose the new rules.
Brenda Bradley of Novi has sent perfume-scented letters to an imprisoned friend. She says such personal touches are a "basic human right."