NY prison on lockdown after 'unprovoked' attack on veteran officer
The inmate cut the CO from the left side of his mouth to his ear with an unknown weapon
---
By Robert Harding
The Citizen
        
AUBURN, N.Y. — Auburn Correctional Facility is on lockdown after an incarcerated individual attacked and injured a correction officer over the weekend.
Michael Powers, president of the New York State Correctional Officers and Police Benevolent Association, said Wednesday that the assault occurred Sunday evening. The incarcerated individual, who is serving a prison sentence for robbery, attempted assault, criminal possession of a weapon and bribing a witness, cut the officer from the left side of his mouth to his ear with an unknown weapon, according to the union. The weapon has not been recovered.
The officer, whose name wasn't released but was identified as a 14-year veteran, was transported to SUNY Upstate University Hospital in Syracuse. He needed 30 stitches to close the seven-inch laceration.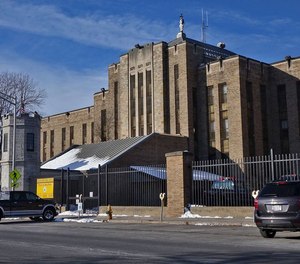 NYSCOPBA said the inmate fled the scene after the attack and two officers pursued him. He then turned and charged the officers. He threw punches during the struggle and three other officers assisted with detaining the inmate.
Three of the officers were injured, according to NYSCOPBA. One officer had pain and swelling to his wrist and hand, while another had pain and swelling on the left side of his face. A third officer had pain in his shoulder and wrist. They were treated and remained on duty.
Thomas Mailey, a spokesman for the state Department of Corrections and Community Supervision, confirmed to The Citizen that the attack occurred Sunday. After the assault, acting DOCCS Commissioner Anthony Annucci ordered the lockdown and a search for contraband within the prison.
"The safety and well-being of our staff and incarcerated individuals is our top priority," Mailey said. "The department has zero tolerance for violence within our facilities and anyone engaged in misconduct will be disciplined. If warranted, an incident will be referred for outside prosecution."
Emergency response teams, including one from Attica Correctional Facility, are conducting the contraband search. As of Wednesday afternoon, that search is ongoing. So far, Powers said 12 weapons have been confiscated.
Since the attack on Sunday, there have been reports of more violence at the prison. Mailey confirmed that "there have been a few incidents involving staff and incarcerated individuals," but did not elaborate. He said one employee suffered a minor injury.
Assaults on staff in state prisons are on pace to be the highest in at least a decade. According to DOCCS, there have been 623 assaults on prison staff through July 31. Most of the assaults (479) have been reported in maximum-security facilities, such as Auburn.
There is increasing violence despite a decline in the statewide prison population. The latest monthly report from DOCCS shows that there are 32,130 incarcerated individuals housed in New York's 50 state prisons.
Powers described the initial attack at Auburn Correctional Facility as an "unprovoked assault." He said they are still trying to learn why the inmate, who has been transferred to Attica and placed in a special housing unit, targeted the officer. He said it's part of a recent trend of attacks at prisons.
"There's nothing that stands out in any of this," he said. "These are all unprovoked attacks as of late. We don't know where they're coming from and why. Obviously, we're genuinely concerned."
(c)2021 The Citizen, Auburn, N.Y.
McClatchy-Tribune News Service