W.Va. cracking down on contraband by photocopying mail
Any photos in "nonprivileged" mail are also photocopied, with the originals kept with the inmate's personal belongings pending release
---
By Wendy Holdren
The Register-Herald
BECKLEY, W.Va. — West Virginia's regional jail system has revamped its inmate mail policy in an effort to eliminate inmate contraband.
Inmates in West Virginia's 10 regional jails now receive photocopies of all mail from family, friends and businesses. The originals are shredded.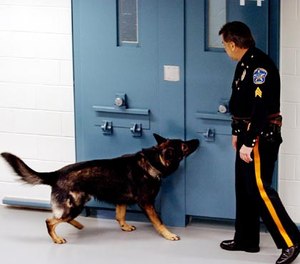 Any photos in such "nonprivileged" mail are also photocopied, with the originals kept with the inmate's personal belongings pending release.
The revised policies are in response to numerous attempts to smuggle contraband — specifically various forms of synthetic drugs, by coating it on mailings.
The potential route for smuggling is considerable, as the regional jail system alone received and screened 300,000 pieces of mail last year.
"We are going to continue the fight to stop the drugs from coming in. This is just Phase One," said Regional Jail Director David Farmer. "(Military Affairs and Public Safety) Secretary (Jeff) Sandy has made it clear that this is not to be tolerated."
The Regional Jail and Correctional Facility Authority's policy became effective March 6.
The Division of Corrections is developing a plan to implement a similar policy at its 16 prison and work-release facilities statewide starting next month.
"In every state where I keep in touch with the deputy directors, they are experiencing the same problem," said Deputy Corrections Commissioner Mike Coleman. "It just varies by region of the country what the drug of choice is. It's a problem for the U.S. Bureau of Prisons as well."
As of March 1, West Virginia's Division of Juvenile Services also adopted a photocopying process for all resident mail at its 10 detention and commitment facilities.
All three agencies involved in the new policy are part of the Department of Military Affairs and Public Safety.
"Illegal substance use in prisons not only erodes institutional authority and control, but it also severely undermines the public's confidence in the criminal justice system," said Sandy. "Eliminating the problem helps ensure trust in the system and the safety of all who work and reside within the correctional environment."
The state's correctional agencies continuously assess their policies to address emerging forms of contraband and smuggling attempts, according to a release.
The regional jails, for instance, previously stopped allowing contact visitations after catching inmates receiving contraband hidden in an infant's diaper and while receiving a kiss, among numerous other incidents.
While a national problem, inmate contraband in West Virginia reflects the struggle in communities throughout the state with substance abuse.
Of the more than 44,000 inmates booked into a regional jail last year, nearly 19,000 had to be placed on a detoxification or withdrawal program. That equals 43 percent of inmates entering the facility with a substance use problem.
West Virginia's correctional agencies also continue to attack substance abuse through treatment and recovery services for offenders seeking to return to lawful and productive lives.
The prison system has nine Residential Substance Abuse Treatment (RSAT) units offering six-month to one-year inpatient treatment programs. There are a total of 551 treatment beds, and their programs' completion rate is 61 percent.
Through Justice Reinvestment, West Virginia has also committed millions of dollars to fund community-based treatment and recovery services, both residential and outpatient, for offenders returning to society via parole, probation or other forms of supervised release.
Juvenile Services provides substance abuse therapy as well, through its medical services contract, while 12-step-type programs are available in the prisons and jails.
Corrections is also participating in a pilot program overseen by the Department of Health and Human Resources that provides exiting inmates with Vivitrol, also known as naltrexone, which blocks the effects of opioid medication. The regional jails plan to join this pilot program.
———
©2017 The Register-Herald (Beckley, W.Va.)