Idaho governor activates National Guard as IDOC reaches worst staffing shortage of pandemic
As of Monday, more than 200 IDOC staff were out of work due to COVID-19
---
By Alex Brizee
The Idaho Statesman
        
BOISE, Idaho —The Idaho Department of Correction has the highest number of staff absences that officials have ever seen since the pandemic started, according to a news release from the department.
As of Monday, the department had 201 staff members out of work due to a COVID-19 positive test result or a close contact, the release said — nearly 10% of the 2,100 full-time positions the department is budgeted for this fiscal year. Idaho Gov. Brad Little activated 75 members of the Idaho National Guard to help the state's Department of Correction.
"We are grateful to Gov. Little for making the National Guard available to us at this challenging time," Director Josh Tewalt said in the release. "We also thank Idaho National Guard Maj. Gen. Michael Garshak and Idaho Office of Emergency Management's Director Brady Richy for helping us assure the continued safe operation of our correctional facilities."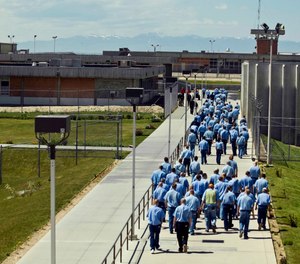 The department will receive 30 members, Little's spokesperson Marissa Morrison Hyer told the Statesman by email. Another 30 will head to Primary Health, which is also experiencing staffing shortages, and the remaining 15 guard members will assist with administration, staffing, mission planning and logistical support.
The National Guard will help at the department's South Boise Correctional Complex — which is composed of six prisons — though some personnel may be deployed to other correctional facilities throughout Idaho if needed, according to the release.
The department incarcerates 7,200 people at nine prisons and four community reentry centers in Idaho. Roughly 1,500 other people are incarcerated throughout county jails and two private facilities. COVID-19 outbreaks have prompted state officials to close down inmates' visitation hours several times in the past two months.
Idaho Guard members will help conduct wellness checks of residents, administer COVID-19 tests, perform perimeter patrols, staff the facilities' front entrances and conduct periodic resident counts, officials said.
History of staffing shortages
The Department of Correction has struggled with staffing shortages for several months now. Multiple security incidents at the South Boise complex occurred during that time, including a prison riot, assault on a female staffer and a fight that broke out among 22 inmates.
Last year, correctional officers pleaded with lawmakers and Gov. Little to act on staffing shortages, the Statesman previously reported. In August, the department bumped its hourly rate and started offering sign-on and retention bonuses.
Idaho now pays correctional officers $19 an hour to start with and offers $1,500 sign-on bonuses and the "potential" for a $1,500 yearly retention bonus for the first five years of employment, according to the department's website. The starting pay is a 13.4% bump, from $16.75 an hour.
Across the border in Oregon, wages for correctional officers start somewhere between $4,022 to $6,523 a month, which breaks down to $26- $36 an hour, according to its website. In Washington, wages range from $24.09 to $27.75 an hour.
In the coming months, lawmakers will decide on funding for the next fiscal year, which begins in July. Department of Correction officials are asking for an additional $20.3 million, a 6.5% increase from its $313.3 million budget.

(c)2022 The Idaho Statesman (Boise, Idaho)
McClatchy-Tribune News Service